Pressure Washer Reviews 2018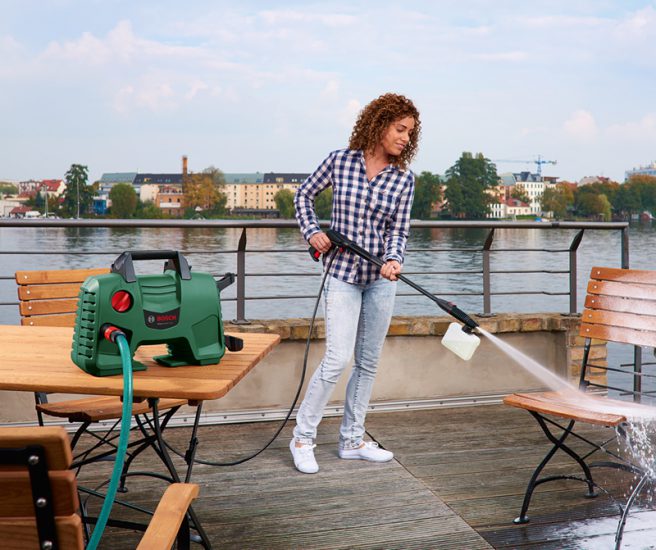 Pressure Washer reviews for 2018 – choosing a new machine.
It's that time of year again when the sun starts to shine a bit brighter in the sky, plants start bursting through the ground and we start to entertain the notion of heading outside to give the car, bike, decking, patio or garden a long overdue hose down in preparation for summer. If you've decided to upgrade your pressure washer, or are looking to purchase a new one for the first time, we've compiled a handy set of pressure washer reviews and buying tips to help you decide which of the many machines on the market best suits your requirements for 2018. So what have people been buying and what should you be looking out for?
Best Pressure Washer Brands
Identifying who makes the best pressure washers is subjective and many people will have their own opinion, though one thing not many people will dispute is that there is one brand who is practically synonymous with pressure washers, and that brand is Karcher. The two are so closely linked in many peoples' eyes that in some parts of Europe it is not uncommon to hear pressure washers referred to as "Karchers". Alfred Karcher GmbH were instrumental in the development of pressure washing technology in the 1950s and today boast an impressive catalogue of diverse machines suitable for professional and domestic applications. Therefore it is not surprising that the German brand occupies pole position in best sellers lists and enjoys a market presence that few other manufacturers can match. However, there is no shortage of competition, and the brand that probably comes closest to matching Karcher's presence in the marketplace is a fellow German manufacturer well known for the extent of their electrical engineering prowess: Bosch. Both companies produce pressure washers for the professional market as well as lighter duty (and less expensive) machines rated for consumer use.
Best Pressure Washer for your Requirements
As mentioned in the last paragraph, pressure washers (like most other power tools) can be broadly classed by whether they are intended for professional use or not. A professional machine will have been designed to cope with the demands of everyday use while the average domestic unit only gets wheeled out for a few weekends a year. If you need a pressure washer for business or commercial use, bear in mind that a domestic machine may not be covered under warranty if used in this way. However, if you're after a pressure washer to clean your car or garden there's no reason why you can't purchase a professional machine, and many people do. Aside from this, there are a number of other considerations – mainly regarding size, portability and power requirements. For instance, farmers working in remote locations may be restricted to using petrol machines, while an urban flat dweller who wants to keep their balcony clean will most likely opt for a compact electric device. That being said, lets jump in and look at some of the best selling machines available right now.
Karcher K2 Compact Pressure Washer (110 Bar)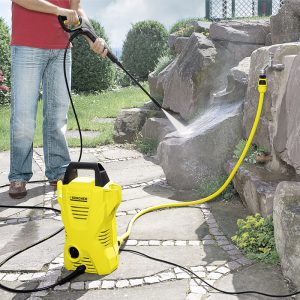 The entry level machine in Karcher's domestic (yellow) range, and responsible for most pressure washer sales overall, the K2 is currently the most affordable Karcher pressure washer available and it has proved to be an extremely attractive combination of compact portability, proven technology and a price point that places the basic models in the Sub-£100 bracket (the K2 is available in several incarnations, with a variety of accessory packs, and as such the price varies accordingly). Though it can't match the power of larger alternatives, the K2 is still a perfectly capable tool for many common tasks, and users are often surprised at the finish it is capable of bringing up on cars, bikes and patios. One of the main advantages of the K2 is that it takes up minimal room in storage, and we think it is a perfect choice for space strapped homeowners and renters, especially those who are just looking for a basic pressure washer for occasional use and are not concerned with the bells and whistles of higher end machines. If you like the compact form factor of the K2 but would like something a bit higher spec'd, then you may be interested in the following machine…
Karcher K3 Premium Home Pressure Washer (120 Bar)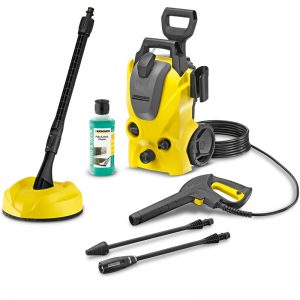 Also coming in at the smaller and cheaper end of the K Series, the K3 Premium Home edition has two main advantages over the K2. Firstly, it delivers higher water pressure at 120 Bar, and secondly it comes with an extra years guarantee, giving you three years warranty in total. Unlike the K2, it is equipped with a water cooled motor which is associated with enhanced long term reliability and longer service life. Supplied with a patio cleaning attachment, a bottle of patio detergent and two spray nozzles, this home edition is ready to tackle a variety of tasks as soon as its out of the box. Like the K2, we think this machine is ideal for people who don't want to relinquish the storage space required for the larger machines, and have no requirement for extremely high pressure cleaning.
Bosch EASYAQUATAK 110 Pressure Washer (110 Bar)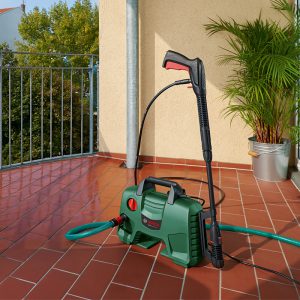 Another best seller, this time from the Bosch Green range, the EASYAQUATAK 110 is a tried & tested design which was previously available in a more or less identical incarnation as part of the AQT series. Like the Karcher K2 and K3, its main appeal is a compact form factor – however the Bosch has more of a "carry case" design along with integrated storage for all included accessories, which means it can be easily carried between locations and will happily sit on most cupboard shelves between uses. Also available is the more powerful EASYAQUATAK 120 which delivers the same pressure as the Karcher K3 but a cheaper price (both machines can currently be had for under £100).
Karcher K4 Full Control Pressure Washer (130 Bar)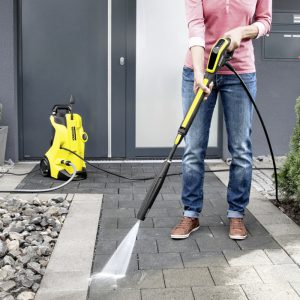 Karcher's Full Control range of pressure washers are equipped with guns that have an illuminated display which lets you easily select the correct pressure setting for the application – for example, the soft pressure setting is ideal for delicate surfaces like wooden garden furniture, medium pressure is suitable for vehicles like cars and bikes, and hard pressure is ideal for blasting hard stone walls and concrete paving. Upright, wheeled machines with water cooled motors, Full Control pressure washers are ideal for the more demanding domestic user, and this K4 is currently the most affordable in the series.
Karcher K7 Premium Full Control Plus Home Pressure Washer (180 Bar)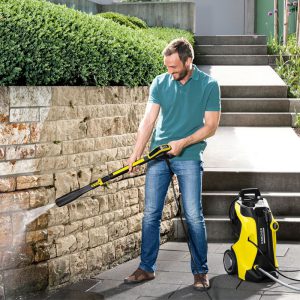 At the high end of Karcher's domestic pressure washers, the K7 Premium Full Control Plus Home is the most powerful model in the range and has been a consistently popular model here at Tooled-Up since it was introduced. Equipped with a hard surface cleaner and a 3-in-1 Multijet lance that can be switched between vario lance, dirtblaster and detergent application settings, this machine can accomplish a wide variety of tasks without needing to carry around lots of separate accessories. It also has a rear mounted hose reel, which enables the high pressure hose to be rapidly unwound and rewound as required, greatly saving time and effort when setting up or storing the machine. Delivering max water pressure of 180 bar and a flow rate of up to 600 litres per hour, the K7 exceeds the capabilities of many industrial grade pressure washers and this model is additionally supplied with an unbeatable 5 year warranty!
Karcher XPERT ONE HD 7125 Pressure Washer (130 Bar)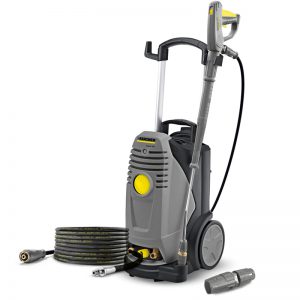 Moving up to a more professional grade of machine, Karcher's XPERT range is ideally suited for both trade and domestic users. While not as powerful as the standard Karcher Professional range, the XPERT series of pressure washers have a robust construction and are fully guaranteed for commercial use while occupying a price point that can make them a tempting proposition for domestic users who'd like something that can stand up to more heavy duty use. Of the XPERT machines we stock, the HD 7125 is the most affordable, and if you snap one up quickly we're currently shipping them with a free accessory pack while stocks last. The HD 7125 is available in 240v for use with standard mains power sockets, or in 110v for use with a step down transformer on building sites and other industrial environments.
Karcher HD 6/13 CX Professional Pressure Washer (190 Bar)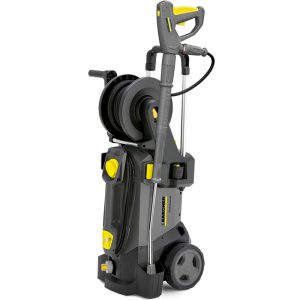 If you need a powerful commercial grade pressure washer, the HD 6/13 CX could be the ideal choice. Delivering up to 590 litres per hour with a maximum pressure of 190 bar, this machine ships with Karcher's new Easy!Force gun which has been designed to greatly reduce the effort needed to hold down the trigger while providing a more ergonomic and comfortable grip during periods of extended use. This means that bigger cleaning tasks can be undertaken without your hands suffering from cramp, pain or fatigue. Additionally, Easy!Force guns have ceramic sealed valves which filter out potentially damaging particles – a feature which Karcher say gives these guns five times the expected lifetime of conventional designs. Supplied with 15 metres of high pressure hose and an integrated hose reel to save time when setting up and packing away the machine, the HD 6/13 CX is rated for up to 2 hours of continuous use per day and has an automatic pressure relief function to extend its life by preventing excessive stress on internal components.
Karcher HD 7/15 G Petrol Pressure Washer (150 Bar)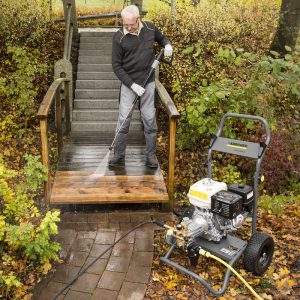 New for 2018, the HD 7/15 G is part of a series of professional grade Karcher pressure washers which are powered by petrol engines for use where an electrical supply is not available or convenient. The HD 7/15 G has a robust metal frame and puncture-proof wheels which enable it to traverse outdoor terrain like building sites, farmyards and agricultural facilities. The HD 7/15 G has a Honda GX 160 engine and can be retrofitted with an additional cage frame which includes eyelets for lifting the machine with a crane, along with mounting points for an optional hose reel. The cage frame is not supplied with the standard model, but is included with the slightly more expensive HD 7/15 G + CAGE Pressure Washer.
Conclusion
If you'd like to find out more about things to look out for when choosing a pressure washer, you could always check out our Pressure Washer Buyers Guide for more info, and if you have any questions about any of the machines we stock here at Tooled-up feel free to call our customer services team who will be able to answer any technical questions you might have. We also have a selection of Karcher pressure washers on display at our Brimsdown trade counter if you want to come and take a closer look at some of the best selling models we stock.
---
Categories discussed in this article: