Van Vault Storage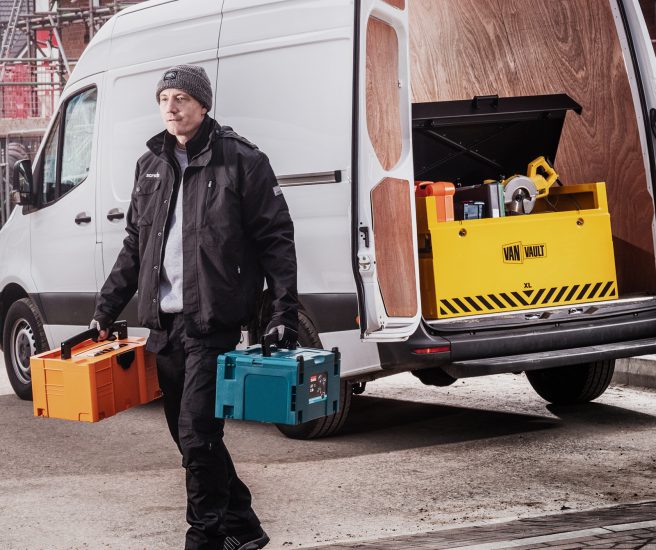 Recently at Tooled-Up we've spent a bit of time upgrading our site & truck chest product ranges, and are now pleased to offer a much wider range of robust storage and transport solutions which are ideal for mobile professionals and the construction industry. In this blog post we will be focusing on Nottingham's Van Vault and examining some of the key features and benefits of the products in their range.
About Van Vault
Van Vault are fairly well-known in the UK, especially amongst trade professionals, and their core range (as the name implies) has always centred around tool chests which are designed to be installed in a vehicle. As well as this, they have a range of site storage solutions and smaller security products like  heavy duty chains and locks. They have been around for over 20 years, during which time they've achieved Sold Secure and Secured By Design accreditation from the Master Locksmith Association and Official Police Security Initiative. Their products are backed by a replacement key service and a catalogue of spare parts which ensures they can be viewed as practical long term investments which are well suited to the everyday conditions they are likely to endure in jobsite environments.
Van Vault Vehicle Storage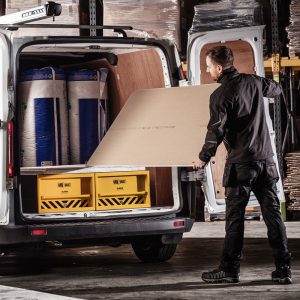 Van Vault use a simple colour coding for their two main product groups: site chests are black, while those designed for mobile use are black & yellow. The yellow storage solutions have flat bases and in most cases can be bolted down inside the interior of a van or truck (the Tipper series is designed to be mounted against the bulkhead of an open- backed vehicle). All Van Vault products on our website include interior and exterior dimensions so you can work out which will best fit your model of vehicle and clarify how much equipment you will be able to store inside it. The range features heavy duty steel construction with anti-pick, anti-drill and anti-rust locks to help keep your valuables safe from thieves while they are stored in your vehicle.
Van Vault Site Storage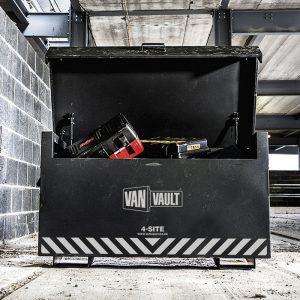 The black coloured products in the Van vault range are designed for use on construction sites or in other industrial environments like railway sidings and vehicle depots. They are powder coated, with an anti-corrosion finish that helps them survive rough weather conditions and damp environments. Unlike the vehicle tool chests, these products are fitted with forklift skids under the base which enable them to be quickly and easily transported between locations. Recent product upgrades to the range have increased the size of these skids so it is now easier to get a forklift or pallet truck into position for transporting. Larger models also include crane hooks for lifting. As with the van & truck chests, these site storage solutions are fitted with anti-theft features designed to safeguard your valuable tools and equipment whilst in storage.
Van Vault Accessories
Notable Van vault accessories we stock include the Roof Tube, for transporting lengths of piping and tubing on the roof a vehicle, and a castor set which can be used to convert many products in the catalogue into a wheeled tool chest, for example if using inside a workshop.
Available Now
Check our Van Vault brand page to see the full range of Van Vault storage and transport solutions we supply.
---
Categories mentioned in this article: