New DeWalt Powerstack Battery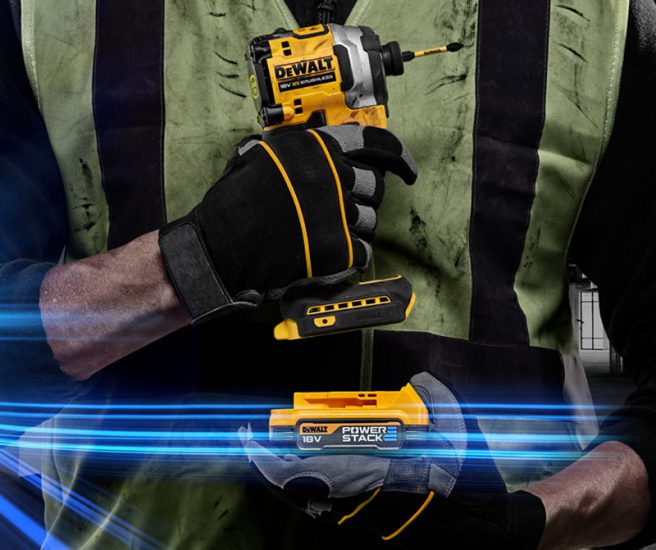 As cordless tools have become ever more dominant in recent years, battery technology is an area we're starting to see a lot of innovation in. Many people will be aware that DeWalt already shook up the industry when they unveiled their Flexvolt battery a few years back, enabling existing 18v XR tools to share battery compatibility with a new heavy duty 54v cordless range – well now they've unveiled a completely new Powerstack battery for the 18v platform, as well as a batch of new tools which have been designed to take full advantage of it.
DeWalt recently paid us a visit so that staff and customers could get hands-on with these new products, and now that we've had a chance to put the Powerstack range to the test, here's what we found out:
PowerStack: What is It?
The name "Powerstack" refers to the unique way the cells are arranged inside the battery pack. If you were to look inside a typical 18v power tool battery, you'd see it was packed with cylindrical cells (closely resembling AA batteries). Powerstack batteries instead use flat, pouch-style cells which are simply stacked on top of each other. These types of cells have been commonly used in devices like digital cameras and phones for years, but have never seen widespread use in the power tool industry. In fact DeWalt have staked a claim to be the first major power tool brand to use pouch cells in tools designed for construction applications.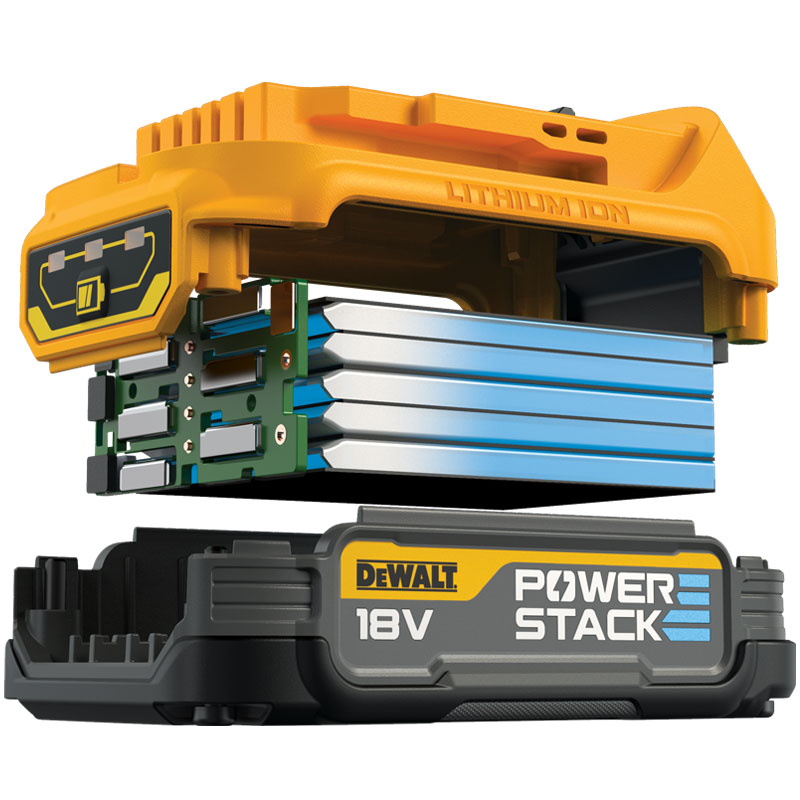 That's all well and good, I hear you say, but what difference does this make to me? To address some of the benefits and hopefully answer any questions you might have, here are the advantages this new design brings to the table.
1. PowerStack Batteries are More Compact
When you construct a battery pack with cylindrical cells, you're essentially packing round pegs into a square hole, and some of the space inside the housing is inevitably going to be wasted. With the Powerstack battery, DeWalt have been able to shrink the housing down as everything fits neatly inside, meaning you can pack the equivalent cells into a smaller space. In comparison with the existing DeWalt DCB183 2ah battery, the new DCBP034 Powerstack battery is 25% more compact. The most noticeable size difference is at the front and rear of the battery, and the shortened length will be appreciated by people who have to work in cramped workspaces – under vehicles, inside engine bays or kitchen cabinets for example.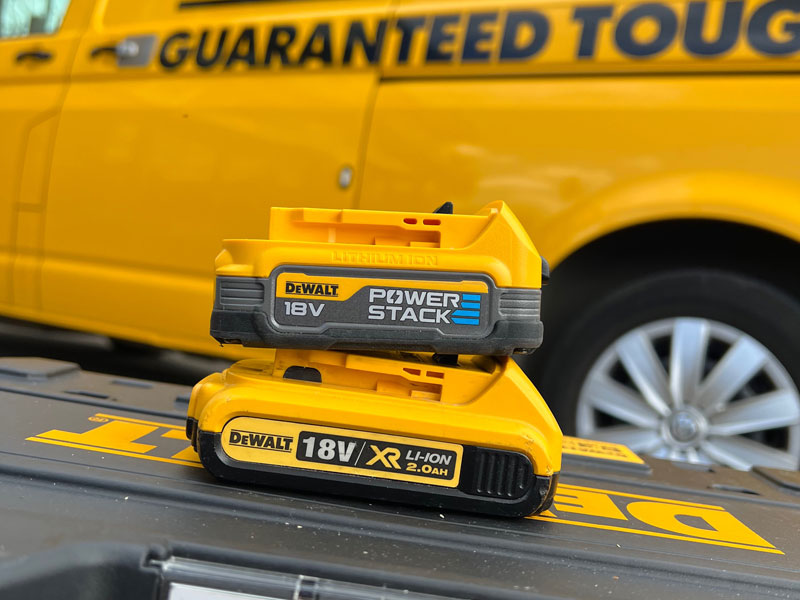 2. Powerstack Batteries Weigh Less
These new batteries are also lighter than their predecessors which makes them ideal for overhead applications and helps keep your toolbelt from sagging towards the ground once its fully loaded up. Powerstack batteries will therefore be a benefit to anyone who works at height, reducing the load you have to carry with you as well the physical exertion required to operate tools at arms length.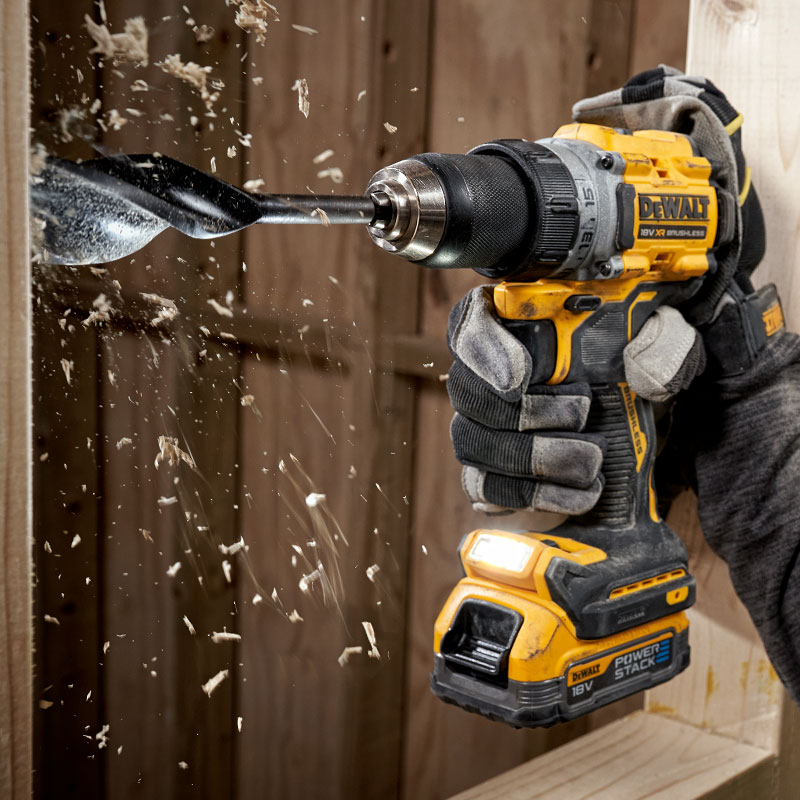 3. Powerstack Batteries Deliver a Performance Boost
Interestingly, these new batteries can also outperform existing power tool batteries during challenging applications – this is especially noticeable during long rip cuts with a circular saw for example. Forcing the tool through this kind of cut can often cause a battery to cut out, but Powerstack batteries will happily plough through without interruption. It appears this is because the Powerstack pouch cells run cooler than cylindrical alternatives and can handle constant demand without overheating.
4. Powerstack Batteries Last Longer
Anyone who relies on power tool batteries to make a living will be well aware that they are expensive! Well the good news is that this design should also be more reliable in the long term, being better able to withstand repeated charge cycles to increase the usable lifespan of the battery. DeWalt say the new Powerstack battery can stay operational for twice as long as the DCB183 under the same conditions – in fact they are so confident in the increased reliability of these new batteries that they also come with an additional two year warranty if you register your purchase on the DeWalt website -bringing the total warranty up to three years.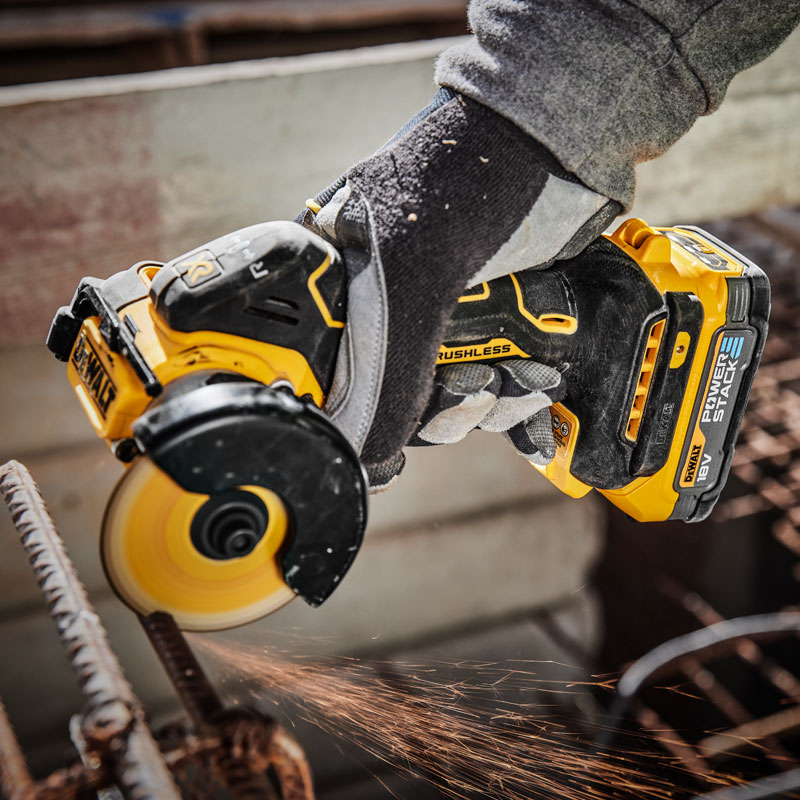 5. Compatible with All Existing DeWalt 18v XR Tools
Although DeWalt have released a batch of new tools in conjunction with the batteries, you don't need them to take advantage of this new battery system as it's fully compatible with the pre-existing 18v XR range. So if you're already on the 18v XR platform they'll be fully compatible with tools you already own.
Conclusion
So that just about wraps up the benefits of these new batteries, but that's not all as DeWalt have brought out three new power tools as well. The new tools that have been announced alongside the battery are the DCF850 Impact Driver, DCD805 Combi Drill and DCS438 Circular Saw (the drill and impact driver are also available as a combined power tool kit). All three tools are compact machines which take maximum advantage of the smaller battery footprint – the DCF80 in particular has been getting plenty of interest because many people have been surprised at just how small it is, measuring a mere 10cm from nose to tail!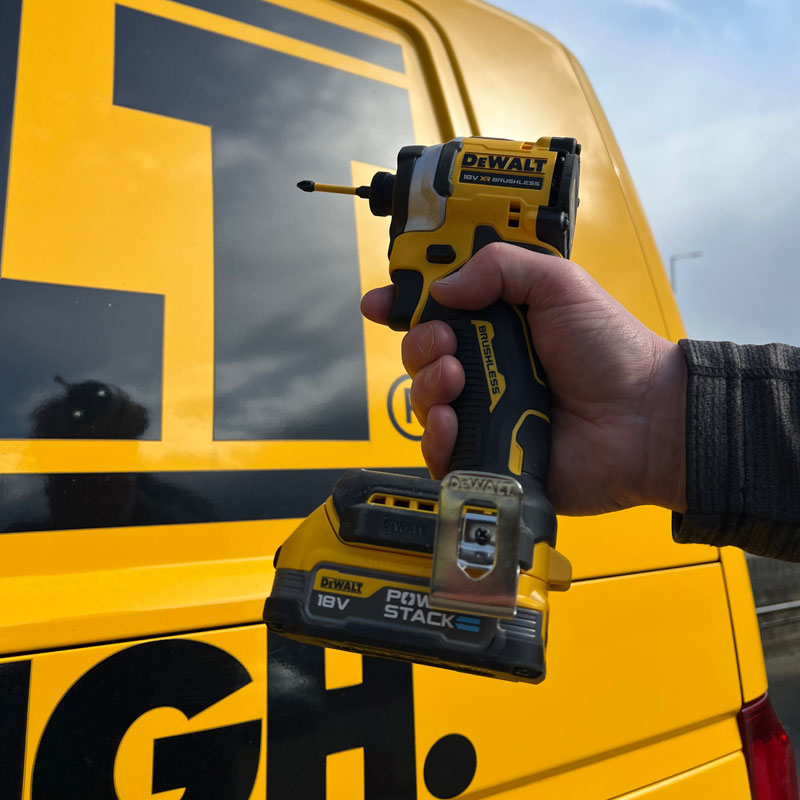 DeWalt PowerStack Range: Available Now from Tooled-Up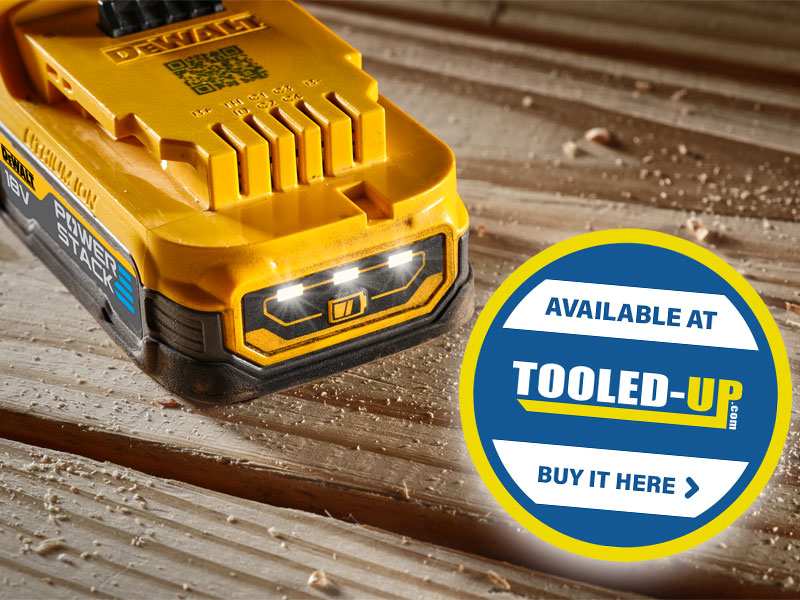 The good news for anyone who can't wait to get their hands on this new range is it's all available now! We've loaded a new DeWalt Powerstack range page onto the Tooled-up website so you can see everything in one place, and of course it's all compatible with the standard 18v XR range too.
---
Categories mentioned in this article: