Battery Packs Loading...
End of content
Error - No more pages to load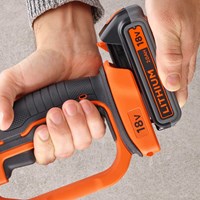 Battery Packs Information
Power tool
battery packs
are indispensable for keeping cordless tools running on the jobsite or around the home and garden. Whether you're looking to replace a dead battery or invest in a high capacity upgrade for tougher jobs, you'll find plenty here from a wide selection of DIY and industrial grade power tool brands.
Here's our Quick Application Guide:
• Brand - make sure you have chosen the correct brand before purchasing a new battery, as they are not interchangeable; bear in mind that Bosch have two separate product ranges: Blue (professional) and Green (garden / DIY) and Makita have two 18v platforms: LXT (professional) and G-series (DIY).
• Voltage - this must match the voltage of your power tool, with a few notable exceptions: Bosch 12v li-ion batteries are compatible with their older 10.8v li-ion ranges (and vice versa). DeWalt Flexvolt and Black & Decker Dualvolt batteries can also be used with 18v tools as well as 54v tools (though you may need a suitable charger to charge them).
• Battery Chemistry - lithium ion is the norm for any power tool released within the last few years but you can still buy batteries for older technologies like Ni-CAD and Ni-MH. Ryobi's current ONE+ li-ion battery range is compatible with every ONE+ tool ever made, even older models that weren't designed for li-ion batteries.
• Battery Capacity (Amp Hours): As long as you have the correct brand, voltage and battery chemistry, you can choose any capacity battery you like. The higher the Amp Hour rating, the more runtime you can expect to get out of your power tool.