Drill vs Hammer Drill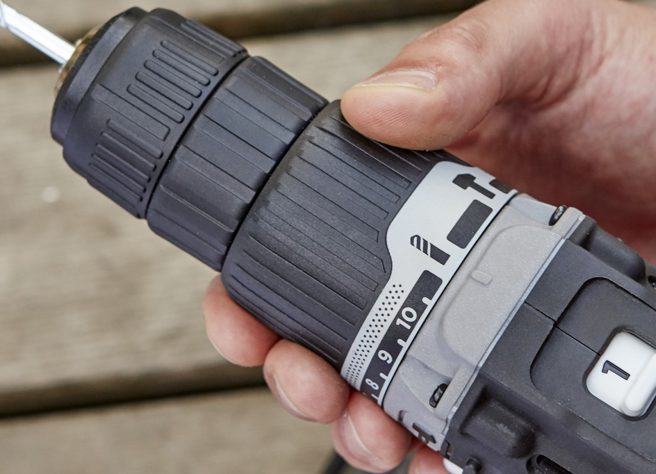 If you're buying a drill for the first time you might have discovered there are a huge variety of machines on the market, but one of the most fundamental considerations will probably be whether you need something with a hammer action or not. If you're undecided, or you're not sure what hammer drills are for, our Drill vs Hammer Drill Buyers Guide contains some useful information to help you out! Read on to find out more.
Drills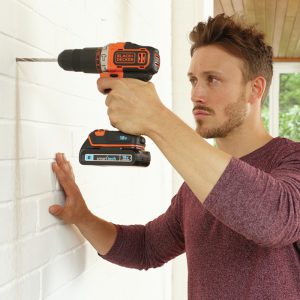 Whether powered by electricity, compressed air or physical effort, a standard drill can take many forms but essentially in all cases it supplies a simple rotary action to drive a drill bit or any other accessory that will fit in its chuck, including (but by no means limited to) screwdriver bits, flap wheels, wire wheels, nut drivers and countersinks. Though you might have some trouble with a manual hand drill, the majority of these machines can be used to make holes in metal, wood, ceramics and plastics without too much difficulty. However, there are a few materials which they will find much more difficult to penetrate – namely extremely hard construction materials like brick, stone and concrete (which are generally filed under the term "masonry"). Using a standard rotary action on these tough materials will quickly prove tiring and ineffective, which brings us on to the next option.
Hammer Drills
A standard hammer drill employs a rotary action which can be supplemented by a series of fast and hard impacts to the back of the chuck, resulting in the loud rasping drilling noises we can often hear travelling through the walls of adjacent rooms or buildings. This extra force enables a masonry drill bit to punch its way through hard materials, rather than just cutting into them like a drill bit for wood or metal would. Hammer modes are only really designed for these more heavy duty applications, but that doesn't mean hammer drills are only suitable for bricks and masonry – in almost all cases (certainly on drills for the DIY market) the hammer action can be switched off, whereby the machine will function like a standard rotary drill for drilling into softer materials or driving screws without damaging the material or accessory.
Drill Vs Hammer Drill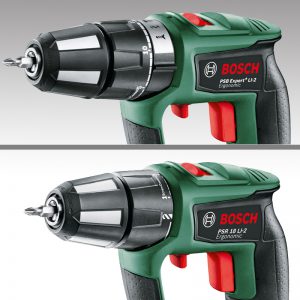 Based on the information above you might assume that a hammer drill is the most versatile option. And in most cases your assumption would be correct. So what would be a good reason to choose a standard drill? Well, firstly, the extra manufacturing processes involved in making a hammer drill tend to make it a more expensive option, but they also add weight and bulk to the machine. If you compare the front end of a standard drill to an equivalent with a hammer action, you will notice the chuck sticks out more on the hammer variant due to the addition of the hammer mechanism. You can also find non-hammer drills with hex chucks which shorten the length of the tool considerably and make them ideal for use in cramped spaces, whereas hammer drills are usually slightly more unwieldy, especially the larger corded machines which can be heavy and fatiguing to use when attempting to work with any precision.
So if you just need to drill and drive screws for woodwork or metalwork, and if you often have to work in tight spaces, then a smaller, lighter (and probably cheaper) drill may be the ideal choice. But if you want an allround drill for general DIY or you just need to drill into solid walls, then it's probably worth investing in some kind of hammer drill.
So by now you might have a clearer idea of what machine you need but you'll find there's still a variety of types to choose from and there are a few more considerations to bear in mind depending on your usage requirements. We'll break them down here, starting with some of the most common handheld drills that aren't hammer drills, and go through some of the advantages and disadvantages of each type.
Drill Drivers (no hammer action)
Cordless
Ideal for drilling into wood, metal, plastics and ceramics
Ideal for driving screws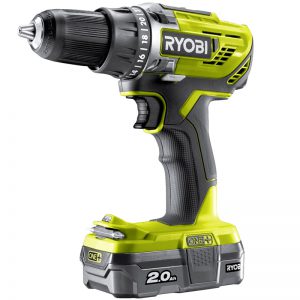 So called because they are ideal for drilling holes and driving screws, drill drivers can be extremely compact, especially 12v hex chuck models like the Bosch GSR 12 V-15 FC (though note that a hex chuck can only be used with a hex shank accessory – most commonly this will be a screwdriver bit but you can also get hex shank drill bits as well as other types of power tool accessory). The term "Drill Driver" typically refers to a cordless, battery powered tool and the key to its screwdriving capability is an adjustable clutch which enables a torque threshold to be set – as soon as the machine starts to apply a level of torque that corresponds to this setting, rotation automatically stops. Once dialled in to your satisfaction, this enables you to drive multiple fasteners to the required depth simply by squeezing the trigger, rather than having to guide them in with careful speed manipulation. When drilling holes, the clutch is usually set to a separate drill mode which enables maximum application of torque and constant rotation. This type of screwdriving function is much less common on corded machines, though there are a small handful of exceptions like the Bosch GSB 21-2RCT which has a torque preselection dial.
Rotary Drills (no hammer action)
Corded
Ideal for drilling into wood, metal, plastics and ceramics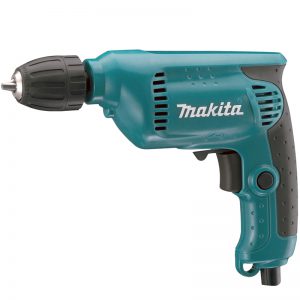 Corded rotary drills are fairly uncommon in this day and age, as they have mostly been replaced by cordless drill drivers or corded hammer drills. The majority of the models on the market today are compact one-handed machines designed for high speed drilling with smaller drill bits so it is worth checking the chuck capacity before purchasing one as it may be unsuitable for use with larger drill bits and accessories. Most rotary drills don't have torque controls and are therefore not as well suited to driving screws as cordless drill drivers, but being corded means they can be used indefinitely as long as you don't mind being tethered to a power lead. Note that as with other corded power tools, rotary drills are often available in 110v or 240v – the 240v options can be used with standard household power sockets but the 110v versions can only be used with step down transformers as used on building sites and in other industrial environments..
In the next part of our Drill vs Hammer Drill guide we'll move on to machines that are hammer drills.
Combi Drills (hammer action)
Cordless
Ideal for drilling into wood, metal, plastics and ceramics
Ideal for hammer drilling into masonry
Ideal for driving screws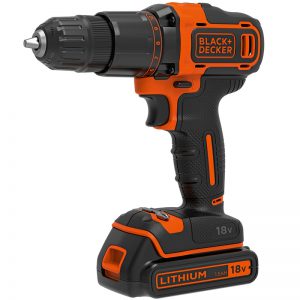 Often known as Cordless Hammer Drills, or sometimes simply as Hammer Drills, Combi Drills are cordless tools which are essentially drill drivers with the addition of a hammer mechanism. Probably the single most popular type of drill overall, this versatile machine can drive screws and drill into most materials, whether with a standard rotary action or a hammer-assisted action. If you were looking into getting just one drill for general use around the home, the Combi is a good bet. They are usually available either as 12v or 18v models which will share battery compatibility with other power tools in the same range. Combi drills have adjustable clutches like what you'd find on a drill driver, meaning you can select an appropriate level of torque for sinking screws flush to the surface of your workpiece, and the most versatile models will have two or more gears to optimize either torque or speed as required.
Hammer Drills (hammer action)
Corded
Ideal for drilling into wood, metal, plastics and ceramics
Ideal for hammer drilling into masonry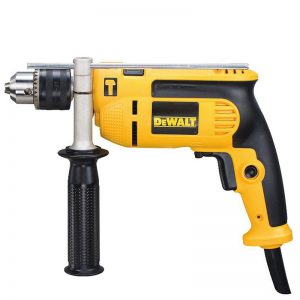 Corded operation has historically provided more speed and power than battery powered designs, and unlike their cordless counterparts corded hammer drills won't run out of power halfway through a job. They are usually a cheaper option as you don't have to invest in batteries and chargers; however they are not particularly well suited to driving screws – it is rare to find any kind of torque control on a corded hammer drill, and they are often slow to brake once the trigger is released. On top of this they are usually fairly large, heavy machines designed for two-handed operation, all of which makes them difficult to use with precision – especially in cramped spaces. Like corded rotary drills, hammer drills are often available in 110v or 240v – the 240v options can be used with standard household power sockets but the 110v versions can only be used with step down transformers as used on building sites and in other industrial environments.
SDS Drills (hammer action)
Corded or Cordless
Ideal for hammer drilling into masonry
Ideal for chiseling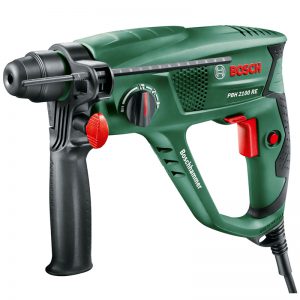 Sometimes known as a rotary hammer (or again, sometimes simply as a Hammer Drill, which adds to the confusion slightly), the last option on our list is a bit more specialized, and was originally developed solely for the purpose of hammer drilling. However, it does this much more efficiently than a standard hammer drill, making it a powerful time-saver which has become an essential component in the professional contractor's tool kit. An SDS chuck can only accommodate SDS accessories, which are hammered directly from inside the machine, enabling a greater force transfer and much faster work, especially through tougher concrete which can often prove a challenge for standard hammer drills. Another advantage of SDS machines is that they can usually be used for hammering without rotation, making them suitable for light duty demolition or channeling tasks in conjunction with an SDS chisel. Where they prove less effective is on wood and metal drilling tasks (or screwdriving), and it is rare to find SDS bits that are designed for anything other than masonry. However, on most models the hammer mode can be switched off and some are supplied with interchangeable jawed chucks which make them suitable for use with all straight shank accessories as well. SDS drills are well worth looking into if you primarily need to drill into bricks or concrete, and they are the only type of machine in this list that can be used for chiseling as well as drilling. Bear in mind there are a few different SDS designations, but the most common is SDS Plus (often referred to simply as SDS). SDS Max machines are large tools designed for heavy duty applications and SDS Quick is a compact system exclusive to the Bosch DIY range. Corded SDS drills may be available in 240v – for use with standard mains sockets, or 110v – for use with step down transformers.
Drill vs Hammer Drill: Conclusion
Hopefully this Drill Vs Hammer Drill Buyers Guide has helped make the distinction a bit clearer between some of the common types of powered drill on the market today. Remember that as well as the type of machine you're using, it's important to select the right accessories for the job, and always make sure you're wearing appropriate safety gear (especially eye protection) before undertaking any work with power tools.
---
Categories mentioned in this article: