Gardena PowerForAll Cordless Tools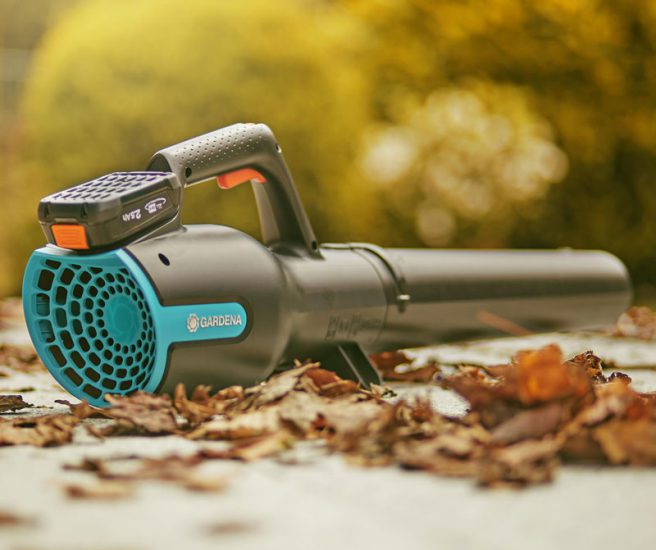 When Bosch announced that their PowerForAll Home & Garden battery platform was expanding to become the PowerForAll 18v Alliance, and that their batteries would be compatible with tools from other manufacturers, Gardena were amongst the first to unveil a new PowerForAll cordless range. The tools in this initial batch were close approximations of existing Gardena designs, but since then, we've seen the range develop with more products added and we thought now would be a good time to take a closer look at the Gardena PowerForAll tools in more detail.
About Gardena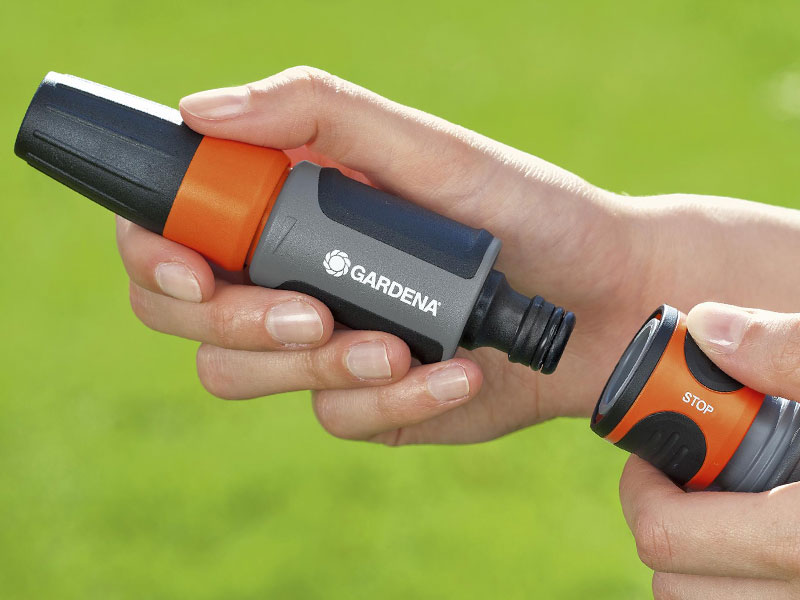 Gardena are a German manufacturer of gardening tools as well as hose pipes, hose accessories, sprinklers and irrigation systems. Established in 1961, they brought their first battery powered tools to market back in 1973: compact grass shears which could run on standard alkaline batteries. In 1990 these were followed by a rechargeable battery system for garden power tools and they have maintained a small cordless range ever since. But now, approximately thirty years later, they have decided to partner with Bosch to overhaul their cordless platform and become part of the PowerForAll Alliance: a cross-brand battery system which includes Flymo, Husqvarna, Rapid and Steinel, as well as the Bosch Home and Garden (Green) range.
PowerForAll Alliance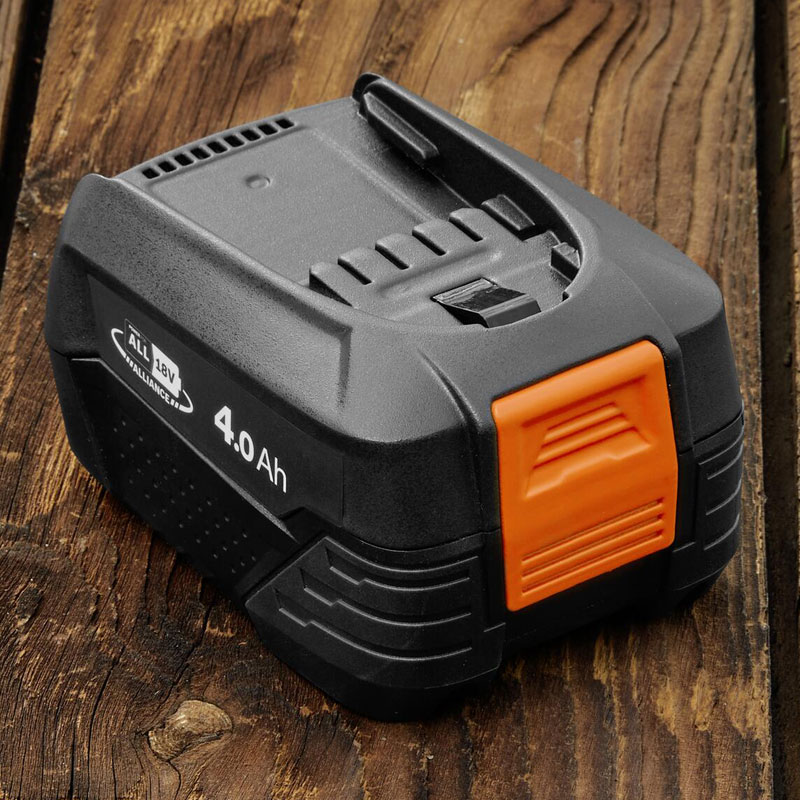 The same battery – essentially a Bosch 18v PowerForAll lithium ion battery – can be used by any of the tools in the PowerForAll Alliance. You can now get Gardena branded PowerForAll batteries, but the battery itself is the same type that Bosch have used for years, and older PowerForAll batteries will work with all the new tools as well. The advantage of this is that you can power a diverse cordless home and garden system from a single battery and charger: something that is not only more convenient for the end user, but is kinder to your pocket as well as the environment.
Gardena PowerForAll Overview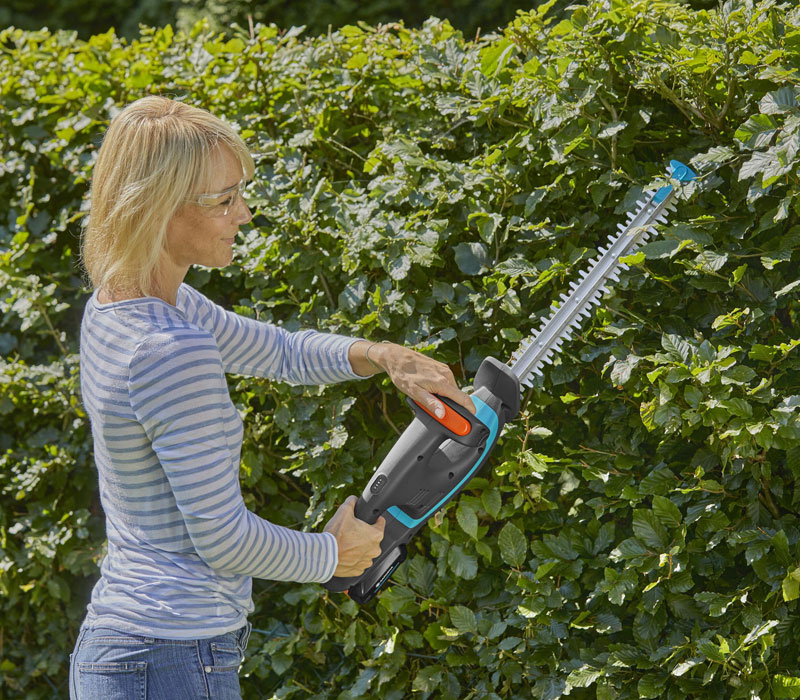 The Gardena PowerForAll cordless range includes all the staples for keeping the average domestic garden maintained – lawnmowers, grass trimmers, hedge trimmers and leaf blowers, as well as a few more specialised tools. If you already own Bosch 18v PowerForAll tools, or indeed other tools from the PowerForAll 18v Alliance, then you'll find that you can buy these products without battery and charger to save unnecessary expenditure, but in many cases you'll have the option to buy them as complete starter kits as well. In any case, there are also a wide variety of PowerForAll battery and charger starter sets available if you need to buy them separately.
Gardena PowerForAll Lawnmowers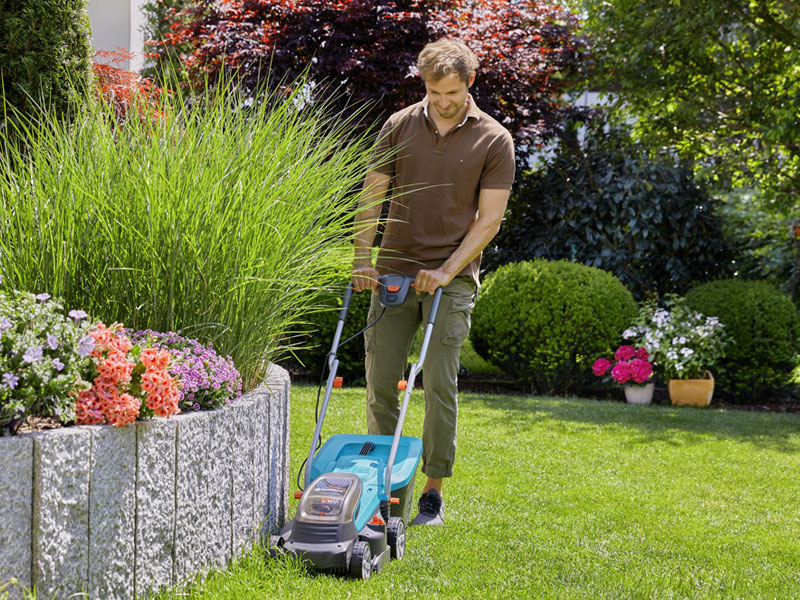 Gardena make several cordless rotary lawnmowers which run on 18v PowerForAll batteries, including powerful 36v options like the PowerMax 32 and PowerMax 37, which run on two batteries simultaneously. These are available with blade diameters of 300mm through to 370mm and should be suitable for anyone with a small to medium sized lawn, but perhaps the best known mower in the range is the pocket sized HandyMower. Designed for maintaining smaller patches of grass, the HandyMower has an extremely compact and portable design which means it takes up very little room in storage and can be easily carried between locations. Undoubtedly one of the smallest electric lawnmowers available, this mini mower is a great choice for smaller gardens – especially if you don't have much room to store a full-sized machine.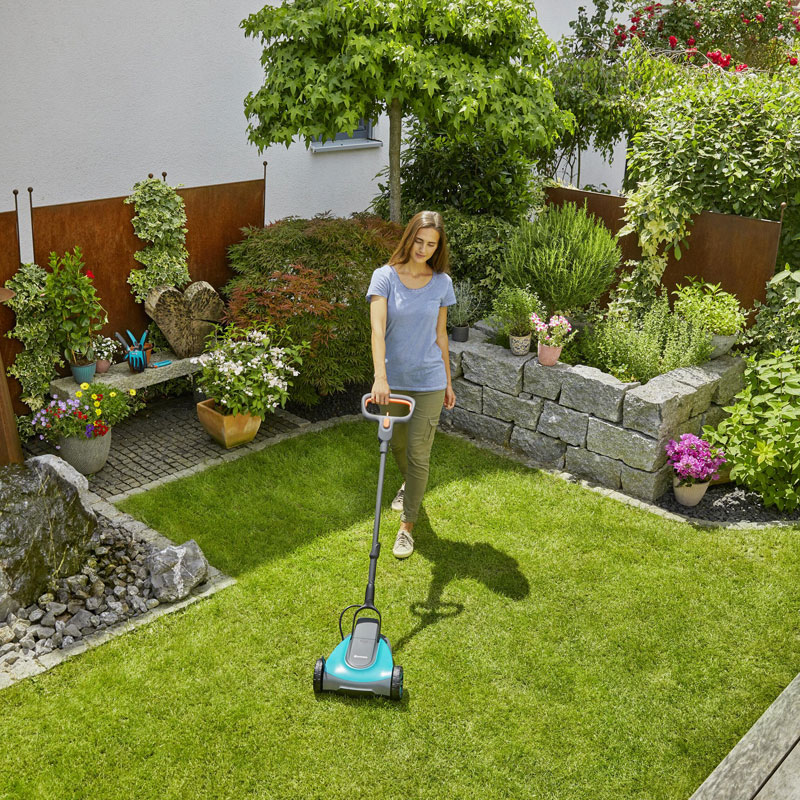 Gardena PowerForAll Grass Trimmers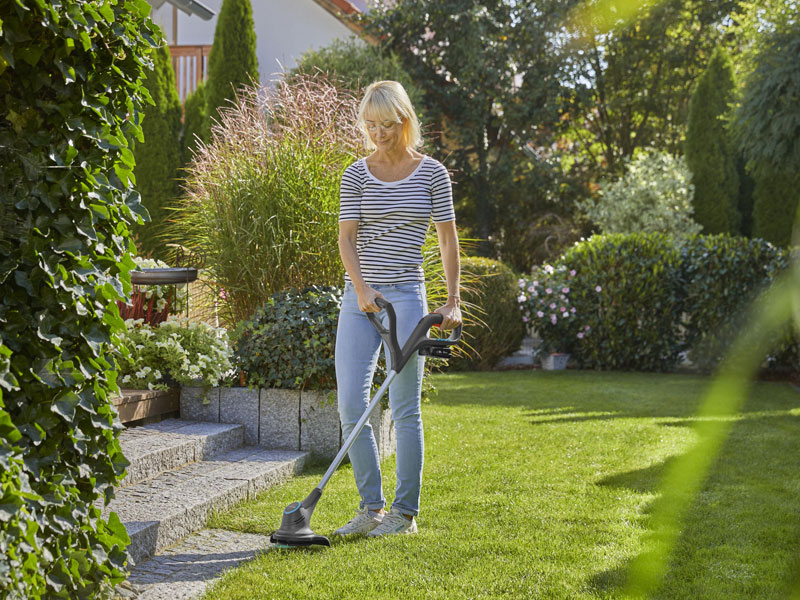 For anything you can't reach with your lawnmower, Gardena also make cordless grass trimmers which run on PowerForAll batteries too. Currently all the models available use replaceable plastic blades, rather than the spool of line which is common to these types of machine. The EASYCUT 23 and COMFORTCUT 23 both feature telescopic shafts and tilting heads for comfortable handling and improved access in awkward spaces, while the Smallcut 23 is a basic, streamlined design which is also especially lightweight at only 1.6kg without battery.
Gardena PowerForAll Hedge Trimmers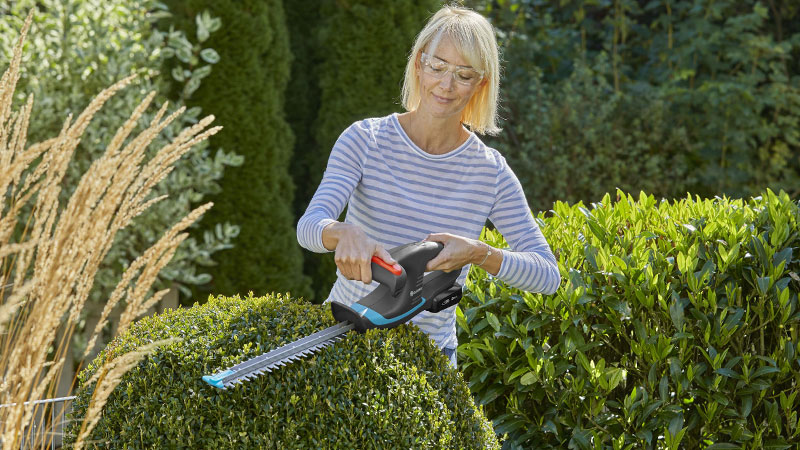 The Gardena PowerForAll cordless hedge trimmer range includes models with blade lengths of 400mm, 500mm and 600mm, but if you have especially large hedges to maintain, they also make a long reach telescopic hedge trimmer with a telescopic shaft: the THS 42, which should be able to trim hedges of up to around 3 metres (depending on the height of the user). The EasyCut 40 is the smallest and lightest model in the range, and is also capable of some long runtimes – providing up to 70 minutes of continuous operation on a fully charged 2ah battery, while the ComfortCut 50 and ComfortCut 60 both feature Ergoline handles for a comfortable grip, along with LED battery indicators on the tool for easily checking remaining charge at any time.
Gardena PowerForAll Cordless Loppers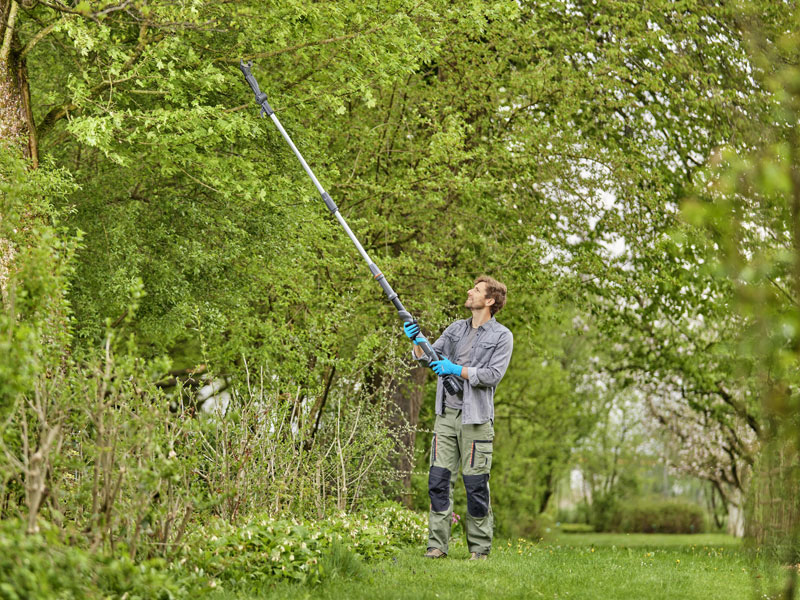 The EasyCut and HighCut cordless tree pruners are designed to give you a bit of extra reach as well as effortless cutting power when trimming tree branches or other woody growth in the garden. The EasyCut 110 is a short handled version, with a total length of 1.1 metres which makes it ideal for clearing and trimming branches closer to the ground. The Highcut 250 has a telescopic shaft which extends to a maximum length of 2.5 metres, while for reaching those really high branches, the HighCut 360 is supplied with an additional extension which can be used to achieve a total length of 3.6 metres. Based on an average user height, this should enable access to branches around 5 metres above the ground.
Gardena PowerForAll Cordless Water Pumps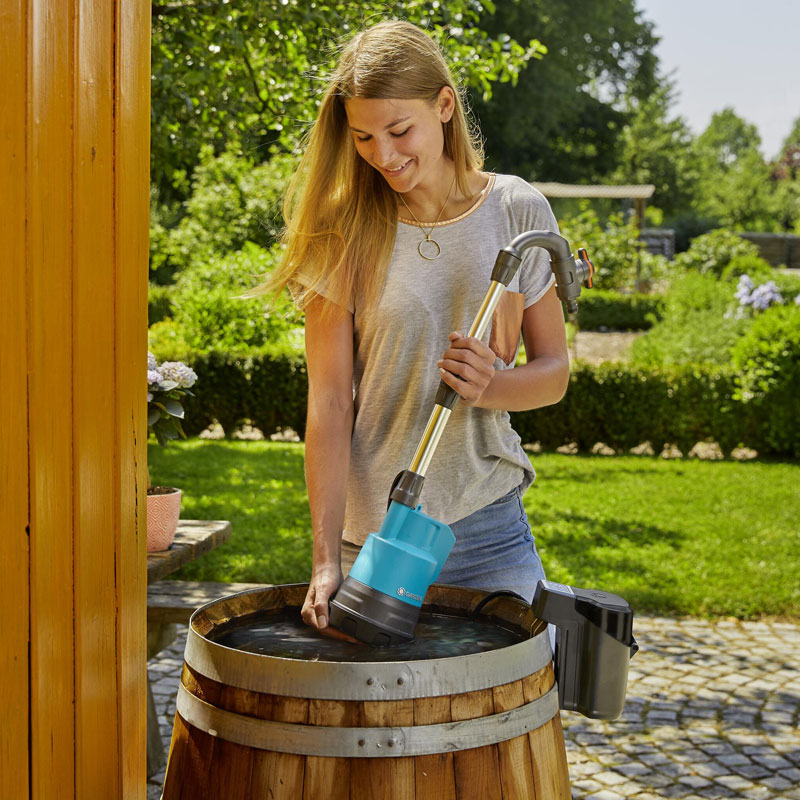 The Gardena 2000/2 cordless water pump provides a handy way of transporting water from sources like tanks and water butts, enabling you to put it back into use in the garden via a connected hose pipe. Especially handy for remote locations like allotments where you might not have access to running water, a cordless pump enables you to make use of stored rain water and is easy to connect up to standard watering accessories like spray guns and nozzles or garden sprinklers.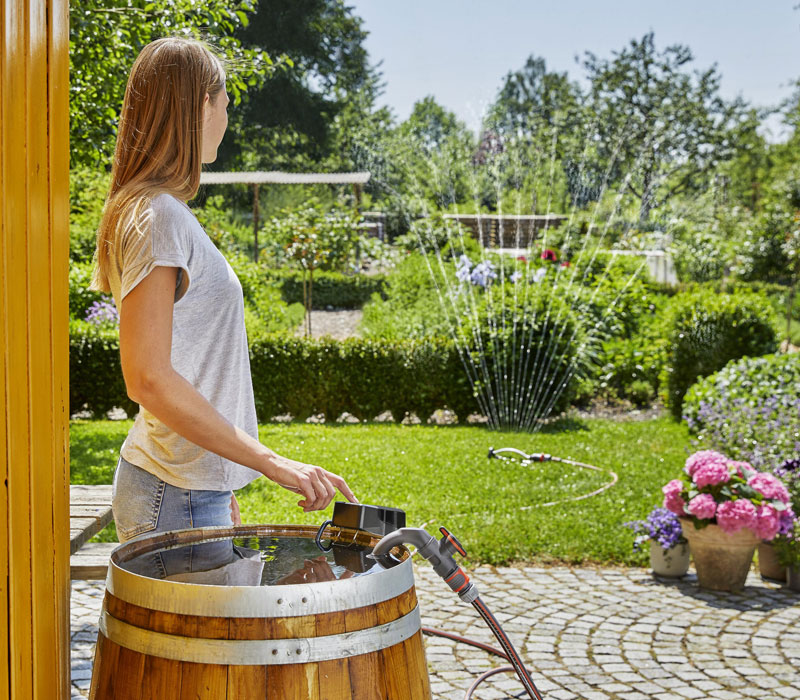 Gardena PowerForAll Cordless Leaf Blowers
And finally, to one of the last gardening jobs of the year for many people, the Gardena POWERJET cordless leaf blower has variable speed control for blasting autumn leaves off of many surfaces around the home. It can also be put to other uses too: for example clearing grass clippings or dust and debris from DIY jobs. Lightweight at 1.8kg, it can be used comfortably all over the garden and is ideal for clearing up driveways and patios where leaves often get trapped amongst gravel, stones, plants and garden furniture.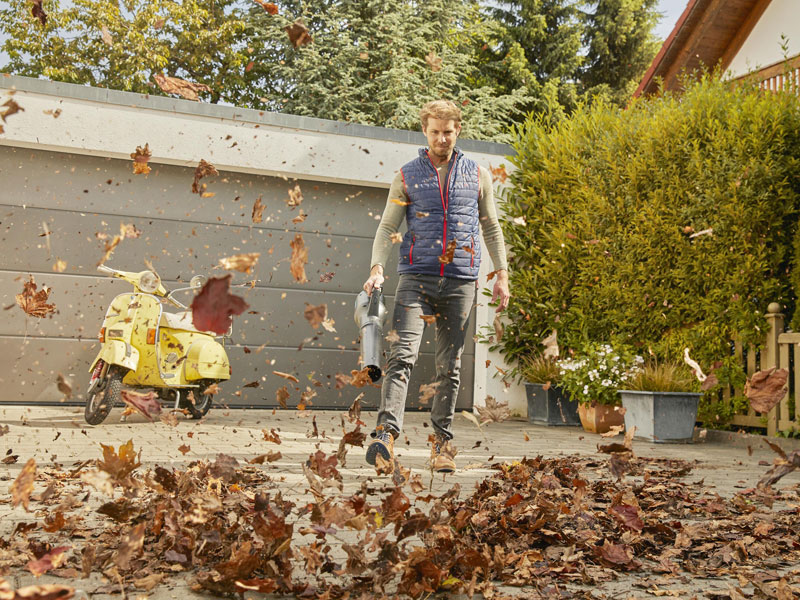 Available Now at Tooled-Up
We stock the complete Gardena PowerForAll cordless range at Tooled-up, along with essential accessories like batteries and chargers. You can take a closer look at a wide range of outdoor power tools by following the links to our website below.
---
Categories mentioned in this article: