Hedge Trimmers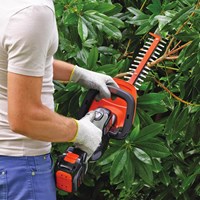 Hedge Trimmers Information
Powered
hedge trimmers
get the job done much faster and easier than hand tools, and are especially useful if you have a larger garden to maintain. They are available in a range of sizes and configurations; the length of the blade you need will be determined by the width and height of any hedges you need to maintain. For the largest hedges, an articulating
hedge trimmer
is usually the best choice. These adjustable machines enable you to trim the tops of tall hedges from ground level, as well as giving increased access to other awkward areas.
Hedge trimmers
come in three main types: petrol, corded electric and cordless electric (battery powered).
Here's our Quick Application Guide:
• Petrol
Hedge Trimmers
- although developments in battery technology are providing increasingly powerful alternatives to combustion engines, petrol engines have historically offered a superior combination of power, portability and runtime. They remain an excellent choice when it comes to heavy duty workloads and remote locations; however, the downsides are that they can sometimes be difficult to start and require more maintenance than electric types, along with the concerns of buying, transporting and safely storing the fuel required to run them. Additionally, the operator (as well as anyone else in the immediate vicinity) is subjected to the exhaust fumes of the machine, along with the louder noise that a petrol engine generates.
• Corded Electric
Hedge Trimmers
- the most affordable choice, a corded electric
hedge trimmer
starts instantly at the press of a button and brings with it the potential for unlimited runtime, although the power lead can be an irritance and potentially a hazard if used in wet conditions, tripped over, or accidentally severed by the trimmer.
• Cordless
Hedge Trimmers
- usually powered by lithium ion batteries, these are increasingly popular due to the convenience and mobility they provide. Todays lithium ion batteries are capable of supplying enough power and runtime to complete many trimming tasks without needing to recharge, meaning these machines can offer a much more convenient alternative to petrol
hedge trimmers
when operating outside the confines of power sockets and extension leads.
Hedge Trimmer Safety:
When using a corded electric hedge trimmer, it is advisable to make use of an
RCD
to minimize the risk of electric shock.
Hedge trimmers
continuously throw up debris from the work area so
eye protection
should be worn whenever using one. Loading...
End of content
Error - No more pages to load