Greenworks 40v Range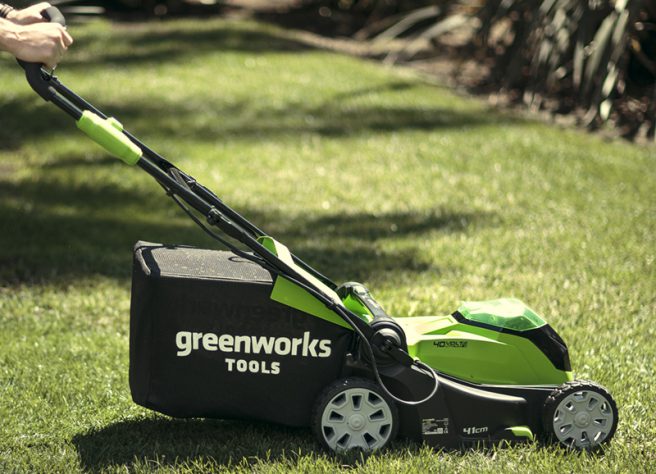 Greenworks are a young company but it hasn't taken them long to establish a name for themselves in the cordless garden power tool market. They have three main cordless platforms, consisting of a 24v, 40v and a 60v system, and in this article we'll be taking a look at the Greenworks 40v range – also known as the Greenworks 40v G-Max platform.
About Greenworks Tools
Greenworks were established in 2007 and have been committed to lithium ion battery powered garden tools from day one. Their aim was to provide an alternative to petrol powered equipment that could get the job done while being cleaner, quieter and more user-friendly. Petrol tools have traditionally maintained the edge when it comes to heavy duty applications outdoors but they can be a pain to use and keep maintained, whereas the lithium ion batteries used by Greenworks are much more convenient – simply charge your batteries and you're good to go. Their first cordless platform was a 24v system, and the Greenworks 40v range was introduced in 2013, announced as the G-Max Garden System. Greenworks manufacture some commercial grade products for landscaping professionals but the G-Max line has always been intended for the domestic market, and a big part of its success has been down to the fact that despite it being one of the more powerful cordless platforms available to the consumer, the pricing has always been surprisingly accessible.
Greenworks 40v Batteries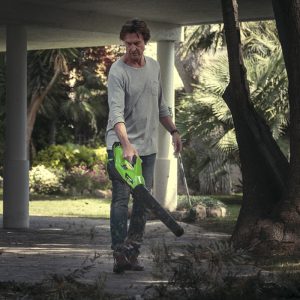 Every G-Max tool is powered by a Greenworks 40v lithium ion battery. Lithium ion has become the standard battery chemistry for cordless power tools and has long since replaced older technologies like NiCAD (Nickel Cadmium) and NiMH (Nickel Metal Hydride). If you've only ever used these older style batteries in cordless tools you may be surprised at how much better lithium ion can be. Unlike previous batteries, it doesn't suffer from memory effect, meaning you can recharge it at any point of discharge without adversely affecting long term performance, and it retains charge for longer periods in storage, meaning you won't find your batteries have all gone flat every time you go to use them. Lithium ion batteries can provide longer runtimes too: Greenworks say their 40v batteries run for 3 times longer than NiCAD equivalents, and this level of endurance is improved even further when paired with an energy efficient brushless motor as featured in tools like the GD40CS40 Chainsaw and GD40BV Leaf Blower. All G-Max batteries have charge indicators so you can check how much power is left before you go to use one for a job – simply push the button and the indicator bars light up. When it does run down, power will remain at maximum until the point it needs recharging, so you can carry on working right up until the battery is exhausted. There are currently four batteries available in the Greenworks 40v range – 2.0ah, 2.5ah, 4.0ah & 6.0ah. All batteries are intercompatible with all tools in the range but the higher the capacity, the more work you'll be able to get done on a single charge. High capacity batteries are ideal for power hungry tools like chainsaws, while the smaller models let you accomplish lighter duty tasks without adding excess weight to the machine.
Tools in the Greenworks 40v Range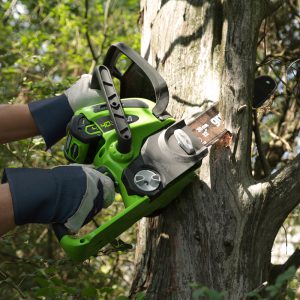 The G-Max platform is a step up (in terms of power) from the 24v system, and consequently most tools in the range are designed for slightly more demanding outdoor applications. There are currently four different lawnmowers to choose from in the Greenworks 40v range, including a self propelled model, along with several larger garden machines like transporters and dethatchers, as well as handheld tools like grass trimmer, hedge trimmers and chainsaws. Most of these products can be purchased as body only machines, ie without battery or charger. This means that once you own a suitable charger and one or two batteries, you're free to add these cheaper tools to your collection without accumulating a whole heap of surplus battery equipment you don't need. And of course, all tools and batteries in the range are cross compatible. Everything works with everything else so its easy to grow your tool collection if you need to invest in more equipment further down the line.
Current Models
To go over some of the Grenworks 40v range in a bit more detail, we've chosen a few selected models in the range we think are worth taking a closer look at. These tools have been some of the best-selling Greenworks products on our website and we'll go through the features of benefits of each one, starting with something most gardeners will need in their tool kit – a lawnmower!
Greenworks G40LM35 40v Cordless Rotary Lawnmower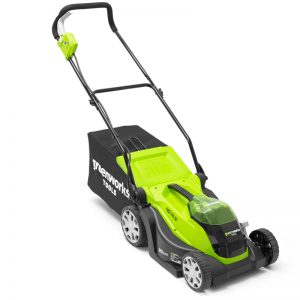 The G40LM35 is the cheapest mower in the Greenworks 40v range, as well as the most popular. Like the other models on this list it is a rotary mower with a metal cutting blade. On the G40LM35 this provides a cutting diameter of 350mm and the cutting height can be raised or lowered to one of five positions between 20mm and 70mm. The slimmest model in the G-Max range, the G40LM35 is ideal for negotiating tight spaces in cramped gardens, and the handles can be folded up to save space while the machine is in storage. Greenworks recommend the G40LM35 for gardens of up to 250 square metres when used with a 2.0ah battery, or for gardens of up to 500 square metres when used with a 4.0ah battery.
Greenworks G40LM45 40v Cordless Rotary Lawnmower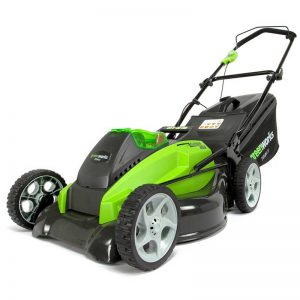 As you might expect, the GM40LM45 is a similar design to the G40LM35 except it has a larger rotary blade which enables it to  cut a 450mm wide swathe through the lawn in a single pass. This means that although it is bulkier than the smaller variant, it can get the job done faster – and as a result Greenworks recommend this model for lawns of up to 400 square metres in conjunction with a 2.0ah battery or lawns of up to 600 square metres with a 4.0ah battery. Supplied with a spacious 50 litre grass collection bag, the G40LM45 can be set to any of seven cutting heights between 19mm and 76mm, and it is fitted with a durable steel cutting deck for reliable long-term performance, and as with the G40LM35, the handles can be folded down to save space while it is packed away in betwen uses.
Greenworks GD40LM46SP Cordless Self propelled Lawnmower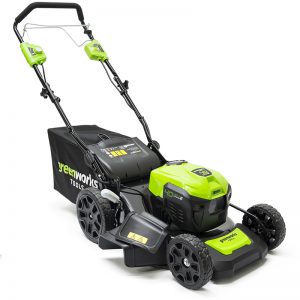 The last mower in our list is a bit more unusual in that it is self propelled, meaning the operator does not have to invest any energy into pushing it and the machine moves forward under its own power. While this is not especially unusual in lawnmowers themselves, it is a feature much more commonly found in those with a petrol engine, and the GD40LM46SP is one of only a handful of cordless machines on the market today that offer this functionality. If you find that mowing the lawn can be a bit of an uphill struggle, self propelled mowers can help relieve a lot of the physical effort, and they are ideal for mowing straight lines over larger areas. Obviously the extra power needed to drive the wheels means the GD40LM46SP can drain batteries a lot faster than the other mowers in the range and to help counteract this Greenworks have fitted it with an energy efficient brushless motor as well as a dual battery port which enables you to load the machine up with two batteries before starting – then, once one is depleted, the mower automatically switches to the backup battery so you can carry on working without interruption. The GD40LM46SP is the most premium model in the Greenworks 40v range but it's still surprisingly affordable considering what you get for your money.
Greenworks GD40CS40 40v Cordless Brushless Chainsaw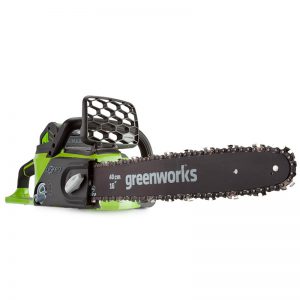 The GD40CS40 is fitted with a 400mm (16″) bar and makes a lighter, more user-friendly alternative to larger and heavier petrol machines. It is fitted with a Greenworks DigiPro brushless motor, as found in several tools in the range – so called because it is digitally controlled, this smaller, lighter and more efficient design helps to ensure you can make more cuts on a single battery charge and requires no maintenance over the course of its lifetime. Being electric, the GD40CS40 also benefits from instant starting, and is equipped with a tool-free chain tensioning system for quick adjustments, as well as a chain brake and low-kickback chain for increased user safety.
Greenworks G40AB 40v Cordless Axial Garden Leaf Blower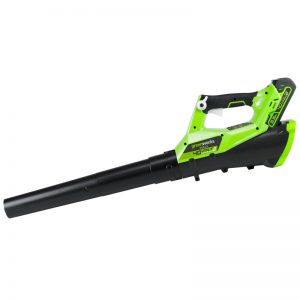 The G40AB weighs just 1.5kg but it is a powerful blower with variable speed control to match the application: gentler settings enable leaves and lightweight debris to be shifted without disturbing heavier materials like gravel, or switch to high speed for maximum blowing force to clear larger areas. Greenworks say the G40AB achieves average runtimes of around 30 minutes on a 2.0ah battery so it's pretty efficient for a cordless blower, but it's also designed to be comfortable to use. As well as the lightweight construction which helps to minimise fatigue over longer periods , the blower features a cruise control button to lock the switch in the On position, rather than keeping the trigger held down, and is fitted with softgrip padding for an ergonomic grip.
Greenworks G40PSH 40v Cordless Hedge Trimmer & Tree Pruner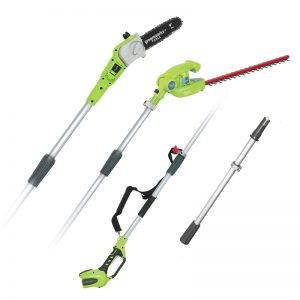 Another machine in the Greenworks 40v range that delivers excellent value for money is the G40PSH – a long reach hedge trimmer and tree pruner which is supplied with interchangeable heads and an extendable shaft, enabling you to reach taller hedge-tops and higher branches without having to climb ladders. The angle of the hegde trimmer head can be adjusted so you can maintain a comfortable standing position whether you are trimming the sides or tops of both larger and smaller hedges, and the tool includes a shoulder strap which helps to distribute the weight and keeps your arms from getting tired out when using it at full length. It is currently available as a bare tool or as a compete kit with a 2.0ah battery and charger.
Conclusion
This is just a small sample of the Greenworks 40v range and we have a dedicated page on our website where you can see what tools are available, along with spare batteries, chargers and other accessories. Have you tried out any tools in the Greenworks 40v range? let us know your thoughts in the comments below.
---
Categories mentioned in this article: