Bosch Professional Warranty

Bosch Professional (Blue) power tools are designed for people who make a living from their tools and they are designed to cope with heavy duty usage in industrial environments. To ensure that professional users can get years of reliable service from their investment, Bosch provide access to a large network of qualified service technicians and maintain a catalogue of spare parts which includes 99% of all components needed to ensure that any faulty Bosch Professional tool which comes in for servicing can be quickly repaired and delivered back to the end user with minimal interruption to their business.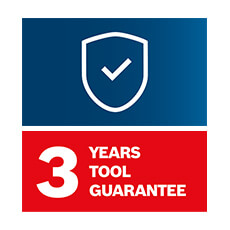 Bosch Professional power tools are fully guaranteed whether the product is purchased for domestic or commercial purposes. All Bosch Professional power tools and measuring tools are automatically guaranteed for 12 months from the date of purchase. By registering their product, users can extend the warranty for Bosch Professional power tools to three years, or for batteries and chargers to two years. Please note that the warranty cannot be extended for high-frequency tools, production cordless screwdrivers and pneumatic tools. Certain items and components are considered consumables and are not covered by warranty, for example drill bits and other power tool accessories.

This is a manufacturer backed warranty at the discretion of, and subject to an inspection by, the manufacturer within the terms and conditions of fair wear and tear and correct usage of the tool. Damage caused by accident, misuse and unauthorised repair or modification is not covered.

You can find the Bosch Professional Warranty Home Page here: Bosch Professional 3-YEAR-GUARANTEE

For repair enquiries: Bosch Professional Online Repair Enquiry
Technical Questions
For any technical enquiries call Bosch direct on 0344 736 0109
I Have an Issue with my Bosch Home and Garden Tool
We will exchange or refund within the first 30 days if a manufacturers fault is found. This is subject to a manufacturer's inspection & authorisation, and please note you must contact Bosch in the first instance – this enables them to run through a few basic diagnostic checks to verify the issue and ascertain if the tool needs to be returned to a service centre or can be fixed with a user-replaceable part. If your tool develops a fault thereafter or during its extended warranty period, you must go through the manufacturers repair procedure using the contact details on this page.

In the event of an issue with an individual component please contact Bosch directly for Assistance.
Contact Details
Telephone: 0344 736 0109 (Monday –Friday 8.00am – 5.00pm)