3 in 1 Lubricants and Oil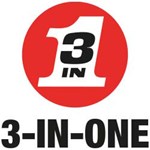 The original 3 in One formula was created by New Jersey resident George W. Cole in 1894. Intended for the care and maintenance of bicycles, Cole's product was suitable for lubrication, cleaning and rust prevention, and proved to be an immediate success. After changing hands several times throughout the twentieth century, the 3 in One brand was acquired by the WD-40 company in 1995, and has since diversified its product range to include a Professional series of specialist formulas, primarily designed for applications in trade and industry sectors.

About The Products

George Cole's Multi Purpose 3 in One Oil is now found all over the world and its lubricating, penetrating and cleaning properties are ideal not only for maintaining bicycles but for a whole range of tools and mechanical parts.

From 3 in One's Professional range we also stock High Performance Penetrant, White Lithium Grease and Silicone Lubricant sprays.
Top Picks