Action Can Products & Accessories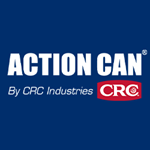 Action Can are specialists in premium grade industrial aerosols. Working in conjunction with experienced industry professionals, they have created a range of sprays and compounds suitable for numerous applications across sectors such as construction, agriculture, metal working and manufacturing. An ISO 9001 certified company, Action Can are endorsed by many leading organisations and have a successful range of food grade compounds which includes a H1 & 3H certified multipurpose lubricant; the first product of its kind to achieve this accreditation.

About The Products

Action Can's AS-90 compound is a multipurpose fluid designed for welding applications. An advanced formulation which is propelled from the aerosol by non flammable Co2 gas, AS-90 is used in the welding process to prevent weld spatter sticking to the weld surface, protecting metal in storage and welded joints against corrosion and for the lubrication of rusty welding wire, making it one of the most versatile and practical welding fluids available on the market today.
Top Picks