Aerosol Products and Accessories Categories
↑ Browse the categories above to see all ↑
Aerosol Products and Accessories Top Picks
Aerosol Products and Accessories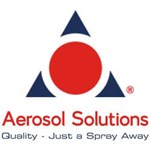 Aerosol Solutions are a UK based manufacturing firm who supply aerosols and related products to a diverse client base which includes construction, engineering, agricultural and automotive sectors. Having achieved ISO 9001:2008 accreditation, they employ stringent quality control measures to ensure all their goods and services meet or exceed customers expectations, while an ongoing programme of product development means they are constantly researching new technology to deliver products that are at the forefront of the market.

About The Products

Aerosol Solutions offer a large range of aerosol products, including paints, adhesives and lubricants. One of their leading ranges is the popular Pocket Rocket high specification maintenance spray. This mechanics tool kit in a can is a penetrating moisture repellent with PTFE and corrosion inhibitors, making it ideal for lubricating, cleaning and protecting moving parts such as hinges, wheels, chains and gears.

For line marking work, Aerosol solutions manufacture the Voyager series of wheel applicators alongside the Spray Master, an ergonomic hand held aerosol applicator that helps to reduce discomfort when spraying over extended periods.