Amblers Safety Footwear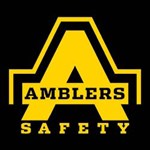 Amblers are a British safety footwear brand established in 1980. For 32 years they were known as Amblers Steel, before an increasing range of composite based alternatives to the steel toe capped boot led them to rebrand as Amblers Safety in 2012. They specialise in safety footwear which is suitable for a huge range of sectors, including construction, agriculture, manufacturing, fishing, logistics, distribution, warehousing, security, aerospace, electronics and the food industry to name just a few.

About The Products

Amblers have a large catalogue of safety footwear and their aim is to ensure they can provide rugged and dependable products which meet all applicable safety standards for their intended use at a price which consumers can afford. All Amblers industrial footwear is tested to be compliant in the latest EU standards from authorised testing facilities such as SATRA and receives certification in EN ISO20345 (safety footwear), EN ISO20346 (protective footwear) or EN ISO20347 (occupational footwear) standards. The International Organisation for Standardisation provides the standard for safety footwear in Europe. Manufacturing processes are monitored to ensure that footwear is compliant to these standards. The Amblers range includes safety shoes, boots and trainers for men and women, waterproof safety boots, welted boots, specialist foundry footwear, metal free footwear, ESD footwear and a catering & medical range.
Top Picks