Apache Workwear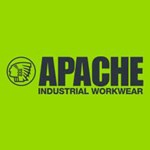 Apache Industrial Workwear was established in 1999 with the aim of providing functional, technical clothing and footwear that looks good and helps keep users safe on site. Their range includes durable workwear suitable for winter and summer outdoors as well as safety footwear and accessories such as kneepads and belts.

About The Products

Designed in Apache's UK offices in the midlands, each product is researched and tested before going to manufacturing, to ensure it is suitable for the demands of trade and industry users.

Apache's jackets, fleeces and hoodies provide warmth and protection against cold weather and rain while working outdoors, while their Rip Stop holster shorts and Dry Max polo shirts are ideal for active users and hot weather conditions.

Ideal for general trade use, the Apache holster pocket trousers have a durable 330g poly cotton construction and a wide fitting design which enables the wearer to bend and kneel comfortably throughout the day. Additional cordura reinforcement on stress points is combined with knee pad compatibility and a generous selection of pockets to help accommodate essential tools and equipment.
Top Picks