Armeg Tools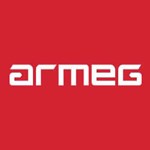 Established in Dronfield in 1973, Armeg are part of a long line of tool manufacturers to come out of the Sheffield area, and are the only company who produce SDS Plus & SDS Max drill bits in the UK, having been granted a license to do so by Bosch in 1986. Specialising primarily in professional drilling accessories, several of their innovative products have become indispensable pieces of kit in the arsenal of electricians, plumbers and other trades, while the global export market has seen Armeg's SDS Max range used in large scale construction projects around the world.

About The Products

Armeg are well known for the introduction of the EBS (Electrical Box Sinker) System. A selection of accessories for SDS Plus machines, these innovative tool kits have become standard equipment for installing electrical back boxes, enabling the electrician to create a perfect square hole in a wall in a fraction of the time needed for alternative methods.

Another leading product range is the Solid Board Cutter line; designed for creating re-usable access holes in solid board flooring, the cutter is mounted in a drill and creates a hole with a rebated lip, enabling the use of plastic caps which sit flush with the surface and plug the hole when not in use.

As well as their drill & chisel bit ranges, Armeg also manufacture a small range of specialist hand tools which cater to the requirements of professional plumbers and electricians.
Top Picks