Bailey Tools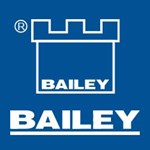 Established in 1970 Bailey Products have been manufacturing quality rods for over 40 years. With a wide range of rods for cleaning chimneys, drains and duct rods that are tested to their best ability for strength, Bailey products are globally recognised for their blue drain and chimney rods which are covered by international trademarks and are known for their quality, durability and strength. The manufacturing qualities of their products are of a high standard and have been attained through years of experience and expert knowledge of the industry.

About The Products

Bailey rods are regarded as some of the most reliable on the market today, from sets to individual rods and accessories. Their rods range from sewer cleaning rods, flue cleaning rods to drain and chimney rods. Bailey rods are acknowledged as the best quality rods available and are the preferred choice of professionals. Manufactured from the highest grade of polypropylene whist the joints are made from solid brass.

Their world renowned Bailey Blue rods are their most popular drain and chimney rod known for their strength.

Steelflex rods are perfect for heavy duty sewer cleaning manufactured from high tensile carbon steel these can also be used with motorized tools.

All Bailey products are suitable for professionals or the most enthusiastic DIYers.
Top Picks