Bessey Clamps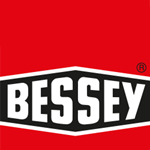 Bessey are a German manufacturer of clamps and cutting tools as well as a supplier of bright and stainless steels to industrial and manufacturing markets. Originating as a bright steel drawing plant in 1889, they started producing their first tools in the 1930s, patenting a malleable cast iron screw clamp in 1936. Placing high importance on precision construction and extensive quality control, Bessey clamps are finely machined and rigorously tested tools which are designed to meet the demands of professional working environments.

About The Products

With a worldwide presence in over 100 countries, Bessey is a global market leader in the clamping tools sector. Their extensive product range includes solutions for wood working, flooring, welding, metalworking and many other applications.

Bessey also manufacture a small range of cutting tools, including a folding locking utility knife.
Top Picks