Black and Decker Tools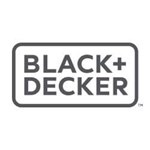 Black and Decker Tools are familiar to people on every corner of the planet. One of the most widely recognised power tool brands in the world, Black and Decker was established in the US in 1910 and is today part of a large conglomerate that includes Stanley and DeWalt. Though their modern product range is designed exclusively for the DIY and household markets, the company has a rich background of innovation in professional fields, including contributions to NASA's Gemini and Apollo space programs. In 1917 they patented the first portable pistol grip, trigger switch electric drill; a design which influenced countless subsequent machines and heralded the arrival of the handheld drill driver as we know it today.

About The Products

With everything from Black and Decker Lawnmowers and Black and Decker Dustbusters to the ubiquitous Black and Decker Drill, the present day catalogue is full of a diverse range of products which can help turn your house into a home. From everyday cleaning & maintenance tasks to ambitious DIY projects, Black and Decker Tools have been relied upon for decades to get the job done. If you're looking for a cordless system where you can use the same batteries for all your household, DIY and gardening applications, Black and Decker 18v Tools use interchangeable lithium ion batteries for maximum convenience. For increased performance some Black and Decker Tools run on a separate 36v cordless platform, and a recent addition is the powerful 54v Dualvolt system which also retains some backwards compatibility with the 18v range.

Top Picks