Campingaz Products & Accessories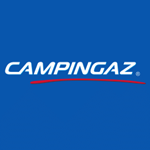 Campingaz, formerly known as 'Camping Gas', primarily manufacture small, lightweight, disposable cans full of compressed, mixed butane/propane gas designed for use as fuel while camping. Founded in France in 1949, the company rapidly expanded into foreign markets and in 1996 Campingaz become a part of US outdoor recreation company Coleman Inc.

About The Products

Campingaz's disposable gas cartridges are constructed of thin metal and are typically used in portable camping stoves and gas lamps. The CV 300 Plus series are self-sealing valve-type cartridges which can be disconnected and reconnected when not empty. This means they can be fitted to compatible devices with the Easy Clic Plus connection.

The larger gas refillable butane cylinders come in three different sizes all containing a different volume of gas. They are also self-sealing, therefore do not need to be empty when disconnecting. These are typically used for appliances like multi-ring cookers, gas refrigerators, grills or heaters.

Campingaz blow torches are also a popular range, and are fitted with an aerosol cartridge that delivers a higher power flame for tougher jobs where a greater intensity of heat is needed. The TH2000 has a fine flame adjustment allowing the blowlamp to be used across a range of jobs. When used with the supplied CG 1750 gas cartridge it has a typical run time of around 1 hour.
Top Picks