CK Tools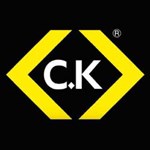 Founded in Germany in 1904, Carl Kammerling provide a wide range of hand tools, power tool accessories and security products suitable for professional, industrial and consumer use. After a turbulent wartime period which included all the original premises being destroyed in a bombing raid and the replacement facilities being closed down by occupying Russian forces, C.K relocated to North Wales in 1954, at the time employing 6 staff. Today, they remain headquartered in Wales with offices in England, Germany and Hong Kong and supply a huge range of tools under a number of brand names. As well as the Core C.K range, Carl Kammerling's subsidiaries include C.K Classic, C.K Magma, Avit, Jokari and Kasp.

About The Products

Declared Number 1 brand of choice for professional electricians in the UK in 2012, C.K have an extensive range of hand tools which cater for the electrical trades, including pliers, side cutters and insulated screwdrivers alongside more specialist electricians tools such as cable strippers, voltage testers and draw tapes.

Other trades will also find plenty in C.K's catalogue, which includes building & plumbing tools, measuring and marking equipment, hand saws and utility knives, Socketry, power tool accessories, torches and jobsite lighting. Of particular interest to IT engineers and electronics assemblers, C.K also manufacture an extensive range of hand tools suitable for precision ESD sensitive applications.

C.K Magma tool bags, belts and pouches represent C.K's premium tool storage solution range. Durable and functional, the C.K Magma line is designed in conjunction with a panel of cross trade professionals to ensure faster and easier working for a wide range of mobile users.
Top Picks