Crescent Tools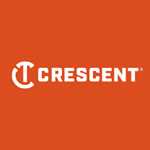 Charles Lindbergh said after flying on his famous solo transatlantic flight in 1927 that he carried only fuel, sandwiches, a bottle of water and a Crescent wrench and pliers. Crescent was founded in 1908 when they launched their first adjustable wrench and the company was kicked started by Detroit and the Ford Model T. An adjustable wrench and slip-joint pliers were supplied with every car. Later, in 1935, A.W.Stevens carried a kit of Crescent tools when he established a world altitude record in his balloon. In 1997 Crescent redesigned the adjustable wrench, introducing a completely re-designed format that opened wider and had a much more ergonomic handle for improved comfort.

In 2012 they introduced code Red, a line of 10 new renovation and demolition tools, including indexing flat pry bars and molding bars. These were the recipients of several awards including Handy's magazine innovation award in 2012. Between this time and late 2014 Crescent manufactured and brought to the market many more tools including connect clamps and hand tools with integrated LED worklights for improved visibility in poor lighting conditions.

About The Products

Crescent primarily manufacture wrenches, pry bars and pliers. Crescent's Linesman Combination Pliers are a pro series compound action plier, offering a winning combination of increased power and comfort for exceptional ease of use, delivering up to 60% more cutting or holding power with the same amount of effort compared to standard pliers.

Crescent's Socket Wrench Ratchet has an adjustable jaw opening to accommodate 38 different bolt and nut sizes. This has a chrome finish for durability and corrosion resistance with a reversible ratcheting mechanism.
Top Picks