DeWalt Tools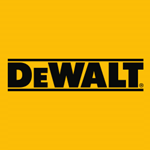 A name that needs no introduction to the majority of workers in construction and industry, DeWalt are a huge force in the professional power tool market, and their innovative, reliable and dependable products have inspired a dedicated user base within the sector.

DeWalt was founded in America in the 1920s by Raymond DeWalt, the inventor of the radial arm saw. The DeWalt radial arm saw proved to be a highly successful design and the company was eventually bought by Black & Decker in 1960, though subsequent technological innovations led to these machines being largely supplanted shortly thereafter. The decline of the radial arm resulted in the manufacturing rights being sold on in 1989; however, the DeWalt brand was to gain a new lease of life in 1992 when Black & Decker decided to start marketing all their industrial power tools under this name. The acquisition of legendary German brand Elu a few years later allowed DeWalt take over production of some of the most successful router designs of the twentieth century, and as the brand grew they added new and innovative machines to their product line up. This commitment to innovation continues to this day, and they have become well known for products and technologies like the Flexvolt range of cordless power tools, the first dual voltage professional power tool battery system.

About The Products

Today DeWalt manufacture a huge range of products that includes power tools, hand tools, accessories and workwear. The DeWalt XR 18v lithium ion platform represents a jobsite standard range of cordless tools, which is additionally cross compatible with batteries from the Flexvolt range. The DeWalt Flexvolt system is built around lithium ion batteries which can operate at either 18v (to power 18v XR cordless tools) or 54v when used with dedicated Flexvolt tools. This technology has resulted in cordless tools which had never been seen before its introduction in 2016, like the DCS7485 table saw. The Flexvolt range also covers cordless landscaping tools, including a chainsaw, blower and brush cutter.

DeWalt's workwear has gained a favourable reputation for being as hardwearing as the tools, and their safety boots, clothing and soft storage solutions are ideal for everyday use on the jobsite.
Top Picks