Dickies Workwear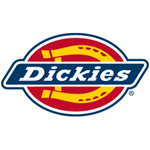 Instantly recognisable due to its distinctive horseshoe logo, Dickies Workwear originated in the small town of Bryan in Texas, where a reputation for hardwearing, quality clothing resulted in the company supplying uniforms to the American armed forces during the Second World War. Business in the post-war years flourished, and utilitarian Dickies Workwear was soon found everywhere from European skateparks to Middle Eastern oil fields. Today they are the largest privately owned workwear company in the world and remain a trusted brand of choice for use in tough conditions and a multitude of jobsite environments.

About The Products

Dickies supply a large range of workwear suitable for use in a variety of global working environments. Extremely popular with tradespeople in the UK, Dickies Work Trousers are tough and hardwearing with plenty of storage space for day-to day essentials, Dickies Hoodies, fleeces and jackets are ideal for warmth and protection against the British winter when working outside, and the Dickies Safety Boots and High Visibility Clothing ranges provide durable and comfortable safety essentials for the jobsite.

Dickies Overalls are another consistent best-seller and they have several options available in mens, womens and childrens sizes.
Top Picks