Dronco Cutting and Grinding Discs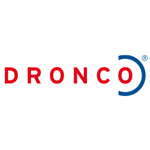 Dronco Cutting & Grinding Discs are always kept in stock at Tooled Up as there is constant demand for them. Headquartered in central Europe, Dronco are an award winning German manufacturer of grinding discs and abrasives whose products are exported to more than 120 countries worldwide. Utilising an extensive R&D department in collaboration with leading universities, they are committed to innovation and improvement across their product ranges and in the abrasives industry, as well as ensuring their products represent the highest levels of safety to the user. Dronco were one of the founding members of the Organization for the Safety of Abrasives (oSa) which has worked to establish binding safety regulations for grinding tools worldwide since its establishment in 2000.

About The Products

Dronco manufacture an impressive range of abrasives which includes an extensive catalogue of Dronco Cutting & Grinding Discs for angle grinders. We supply Dronco Diamond blades and cutting discs as well as a selection of Metal Grinding Discs and Flap & Fleece discs which are suitable for stripping, polishing and grinding applications.

Top Picks