Estwing Hammers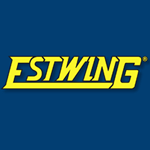 Proudly made in the USA since 1923, Estwing's one-piece solid steel forged hammers are probably the most famous export from their manufacturing facility in Illinois, though they also make other hand tools including pry bars, axes and knives. Established by Swedish immigrant Ernest Estwing, the company makes high end striking tools in a variety of configurations, including many specialist models optimised for individual applications or trades. In 2001 they patented a shock reduction grip which was commended for its increased comfort and durability, and which has now become the standard fitting on all Estwing's nylon vinyl grip tools.

About The Products

Greatly respected by a diverse range of professions including roofers, carpenters, bricklayers, geologists, palaeontologists and archaeologists, Estwing manufacture a wide range of specialist hammers though their claw hammers and nail hammers are probably the most universally used by trade and DIY users. Estwing's club hammers are ideal for driving cold chisels and hardened nails, while the E3 brick hammer's solid build and shock absorbing handle has made it a valuable tool amongst builders and in the construction industry.

Estwing's pry bars provide a robust solution for light demolition, leverage and nail pulling tasks, while their axes are dependable and ergonomic tools favoured by many outdoors enthusiasts.
Top Picks