Facom Tools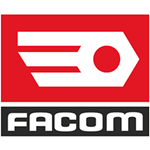 Facom is an acronym of "societe Franco-Americaine de Construction d'Outillage Mecanique" (Franco-American Mechanics Tool Company) and was established in Paris in 1918, the year the First World War ended. The brainchild of French mechanical engineer Louis Moses, Facom's name was chosen not because of any international alliance but to suggest the technological and industrial progress that Europeans associated with America at the time. Despite their grand title, Facom only consisted of 10 employees. However, they were well placed to enjoy the benefits of the post-war period, and in particular the growth of the automobile and aviation industries which demanded an ever increasing supply of tools as the twentieth century progressed. Forging a close relationship with Air France, Facom adopted an image of a winged hex bolt as part of its branding which was eventually modified to form the company logo as it exists today.

About The Products

Facom have a large catalogue of professional hand tools which cater largely to the mechanical, automotive and aerospace industries. They also manufacture power and air tools, and a small workwear range.

Facom socket sets are highly regarded amongst industry professionals, and a huge range is available; as well as professional quality ratchets and torque wrenches, Facom also supply loose sockets for just about every application, from hub nut sockets to fit individual vehicles to tools designed for sensitive working environments like the Non Sparking copper beryllium series.

The 101 adjustable spanner was one of the first tools Facom released, and remained in production until the 1960s. These days Facom combination spanners represent one of the best sellers in their range, and are available in sets for roller cabinets as well as portable cases.

The Facom Protwist range is a highly popular series of professional screwdrivers, including insulated, stainless steel and bit holder variants, while Facom's tool box and bag range provides robust transport and storage solutions for mobile users.
Top Picks