Felco Garden Tools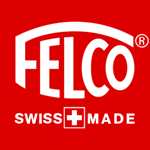 Felco Garden Tools have been Swiss made since 1945, and Felco's rise to their celebrated position as a market leader in cutting tools was impressively meteoric. Starting out as four people in a small workshop, they were exporting outside of Switzerland within a year, and by 1948 had released the iconic Felco Model 2 secateur, an award winning tool which has remained in production ever since. Well known for their secateurs, loppers and pruning saws, they have also manufactured a range of cable & wire cutters since 1952 and introduced the first pneumatic secateurs in 1970. Felco Garden Tools continue to set high standards of ergonomics and performance, and are much prized by horticulturalists and discerning gardeners for their outstanding build quality.

About The Products

Felco was voted " best tool of its kind" by the Good design Guide, and featured in its 100 Best Ever Products. All Felco Secateurs are subjected to more than 100 quality control processes before they leave the manufacturer. This has made tools like the Felco Model 2 industry standards amongst professional gardeners. This range also includes several other options of bypass and anvil models including a good selection of Professional Left Handed Secateurs.

Felco Loppers and Felco Pruning Saws make up the bulk of the rest of the gardening range, which also includes useful accessories like Holsters and Sharpening Stones.

Felco also manufacture cutters suitable for everything from barbed wire to metal rods and steel cables. These are made to the same high specifications as Felco's garden hand tools and are suitable for use in industries such as construction, metal working and agriculture.
Top Picks