Flex Tools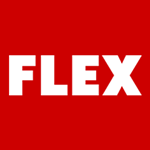 Flex were called Ackermann & Schmitt up until 1996, when they renamed themselves after the first model they produced back in 1922; a portable electric grinder with a flexible shaft. Having been early pioneers in the development of the angle grinder, Flex adapted this design principle to meet the demand for additional surface conditioning power tools like polishers and sanders, releasing a number of innovative products including the first Giraffe Wall & Ceiling sander in 1997. These days they supply a broad range of power tools and remain a trusted manufacturer of choice for many sanding, polishing, burnishing and grinding applications.

About The Products

The Flex Giraffe Sander series provides a fast, ergonomic and efficient method for preparing large areas of wall and ceiling. The VCE series of wet & dry vacuum cleaners make ideal dust extraction accessories for these tools, and are often available paired as kits.

For standard sanding jobs, we stock Flex palm and random orbit sanders; additionally we supply several Flex polishers and a range of accessories including sanding paper and vacuum cleaner filter bags.
Top Picks