Flexovit Abrasives & Accessories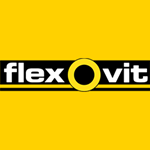 Originally established as Slijptechniek in the Dutch city of Enschede, international growth during the 1960s and 70s resulted in the abrasives manufacturer rebranding themselves as the more global sounding Flexovit in 1984 (from the Dutch word "Flex" for grinder, and the French word "Vitesse" for speed). Now part of the Saint-Gobain portfolio of brands, they are one of the world's leading suppliers of abrasives and manufacture each of the 3 major types; bonded abrasives (resinoid and vitrified), diamond products and coated abrasives. Serving all sectors of the market from DIY, Decorating, Painting, construction, marine and automotive to manufacturing and more, Flexovit have a wide range of solutions for a multitude of cutting, grinding, sanding and polishing tasks.

About The Products

Flexovit's high performance sanding rolls come in four different materials; paper rolls, cloth rolls, soft rolls and flat rolls, all suitable for achieving different finishes.

Flexovit offers a range of industrial performance accessories to accompany its abrasive range. From Steel wool for surface preparation to backing pads for grinders, polishers and sanders.

The most popular sized diamond blades for angle grinders, petrol, masonry, tile and floor saws are available in three quality tiers: Mega-Lime (Premium performance), Industrial Line (High Performance) and Speedo flex (Standard performance) for cutting steel/ reinforced concrete, concrete, hard materials, granite and tiles.
Top Picks