Garryson Abrasives and Sanding Products Categories
↑ Browse the categories above to see all ↑
Garryson Abrasives and Sanding Products Top Picks
Garryson Abrasives and Sanding Products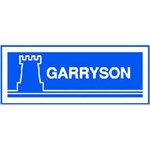 Garryson Limited is a UK manufacturer of abrasive products which are designed and engineered to suit virtually every power tool in the market. Garryson products are widely used in a variety of industries and in many different applications, for example removing all types of metal and blending, finishing or polishing on a vast range of materials including iron, aluminium, alloys, steels or non ferrous metals. Part of the ATA group they are the only precision engineering company in the world to provide both tools and consumables for a variety of deburring, material removal and finishing needs- across any material and any application.

About The Products

Garryson manufacture a selection of abrasives which ranges from handheld blocks to power tool accessories like flap wheels and discs.

The Garryflex abrasive block is made from resilient rubber filled evenly throughout with hard abrasive grit and is ideal for cleaning and polishing all metals and ceramics.

Garryson Flap discs have been developed primarily as an alternative to sanding discs and can be fitted directly onto an angle grinder without a backing pad. Lasting up to 25 times longer than standard sanding discs, the Zirconium flap discs suit the majority of metal grinding applications and are available in a range of diameters and grits.