Hammerite Paints & Seals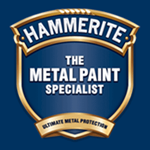 Hammerite first appeared on the market in 1962 when a hammered paint was developed for use in electrical insulation. In 1984 it was launched in to the UK DIY Market as a single- pack, air-drying, corrosion- resistant coating for iron and steel.

Hammerite quickly developed a reputation for high quality products and today is sold in over 55 countries worldwide. They have also become the European brand leader in metal care.

Providing solutions for the decoration, protection and restoration of all metal, you can trust Hammerite to provide easy to use, long lasting protection. Their knowledge and understanding of metal remains unrivalled and the brand continues to be supported by world-class research and innovation.

About The Products

Hammerite offer a range of products for all your metal painting needs both indoors and outdoors. Whether it's your radiators, garage doors, barbecues, metal railings or garden furniture you will find the right Hammerite product for the task. Their range is split into Multi-purpose finishes, Primers, Rust proofing and Job Specific products and finishes.

Their dust to rust exterior range is ideal for protecting and transforming a multitude of metal surfaces, inside and outside your home and comes in aerosol or paint tin options. With a smooth finish, satin finish or hammered finish this product can be applied directly onto rust.

Their interior metal surface products are perfect for home appliances like fridges or interior metal fixtures; they are also available in paint tins or aerosol spray, with gloss or satin finish options.

Hammerite radiator Enamel Satin Aerosol is a popular solution for painting radiators. It has a heat resistant finish that prevents yellowing and is tough and durable.
Top Picks