Humbrol Paints & Adhesives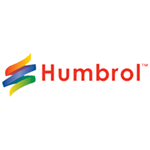 Humbrol has been producing superior quality paints for almost 100 years. Founded in 1919 as the Humber Oil Company, being established close to the Humber estuary near Hull, they initially supplied bicycle oil. However in 1935 the company was asked to produce paints for renovating bike frames and they come up with the Art Enamel range (though originally this only consisted of one colour).

As well as diversifying the Art Enamel range to meet demand from the cycling community, Humbrol established itself in the plastic modelling market and it is for this they are most well known. A close relationship with the iconic model brand Airfix was cemented in 1986, when the two companies were brought together under the umbrella of Hornby Hobbies, resulting in a broadened product range giving a new, wider focus towards model railways and war gaming.

Since 1965, Humbrol has also produced paints and adhesives for the DIY market as well as art & craft orientated brushes and modelling tools.

Humbrol produce 60% of their product ranges in the UK, including their well established and most popular range of enamel paint which is made in production facilities in London and Manchester.

About The Products

Humbrol's most well known products are their paints and poly Cement adhesives.

Humbrol's Paint is available primarily in enamel or acrylic. Their spray paint and aerosol solutions include acrylic spray, varnish spray, fluorescent, multi-effect, metalcote and glass etch options.

Humbrol's Paint can be used on a wide range of surfaces such as plastics, wood, glass, ceramics, metals, cardboard, sealed plaster, sealed hard board and more.

Poly Cement is a solvent- based cement designed for plastic model kits. It has a low viscosity to enable precision delivery of fine amounts of cement.
Top Picks