Kasp Security Products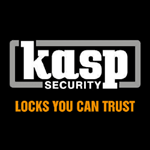 Part of the Carl Kammerling International group which includes CK tools, Kasp were Launched in 2006 and have rapidly made an impact in the security market. The padlock industry is extremely competitive and mature with well established brands dominating the sector; however, Kasp have brought innovation and fresh ideas to the market, managing to win a silver award in the Security category of the Industry Awards 2007 within a year of being established.

They offer quality products designed to meet the majority demanding security needs of industrial, domestic and commercial users. Carl Kammerling International have over 50 years experience within the padlock and security market and Kasp is now sold in over 15 countries around the world.

About The Products

Kasp manufacture a wide range of different padlocks to ensure you the best security for your individual requirements.

Their combination padlocks are available with a solid brass body or anodised aluminium body in a wide range of colours; these make them easily identified and personalised if you are using them for use on luggage, bags or lockers.

The 120 series is a range of general purpose solid brass padlocks featuring a hardened steel shackle. Manufactured with a solid brass body and double bolted locking mechanism from 30mm and above, they come in a wide range from long shackles to twin packs and brass padlocks with a stainless steel shackle. For a more robust design, the 130 series is a classic style of padlock that ensures that it remains as popular as ever with a hardened steel shackle and a double bolted mechanism, paracentric keyway and anti-pick cylinder.
Top Picks