Kidde Fire Safety Products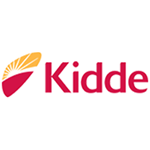 Kidde was established in 1917 by Walter Kidde who introduced a carbon dioxide system designed to extinguish fires on ships without damaging cargo or equipment in the process. The first portable carbon dioxide fire extinguisher followed in 1924, and since then Kidde have grown to become the world's largest manufacturer of fire safety products.

About The Products

Kidde provide advanced solutions to protect people and property from fire and related hazards. Their product range includes smoke alarms, carbon monoxide alarms and fire extinguishers.
Top Picks