Lenox Tools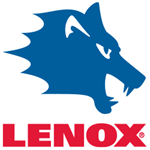 At Tooled Up we stock a wide range of Lenox Tools and Lenox Power Tool Accessories. With over 100 years of experience, Lenox (a subsidiary of the American Saw and Manufacturing Company) have earned a reputation for high quality industrial cutting tools in the USA but their distinctive red, white and blue products have been hard to find on the shelves in Europe until comparatively recently when they became part of the Stanley Black & Decker group. Lenox manufacture all their tools in an ISO-9001 ceritified facility in Massachusets and place quality control at the forefront of their manufacturing process, ensuring every tool is proven to perform when it goes out of the door.

About The Products

Lenox Hole Saws are some of the best selling hole saws we stock, and as well as individual sizes and accessories, we also supply a wide range of Lenox Hole Saw Sets with everything you need to get started in handy carrying cases.

Lenox Reciprocating Saw Blades are legendary for their performance and durability, especially in the US, where a long standing advertising campaign saw Lee 'Hackman' Breton (a Lenox employee) use them to cut through everything from cargo planes to armoured cars!

Lenox Jigsaw Blades are suitable for a wide range of applications and are available in a range of configurations and materials.

Lenox MetalMax Blades are diamond discs for angle grinders which are designed for cutting metal, making them a durable and long lasting alternative to conventional abrasive cutting discs.

Lenox Hand Saws provide legendary Lenox cutting performance in hand tools such as Hack Saws, Jab Saws and PVC Saws for pipes and similar materials.
Top Picks