Lumatic Tools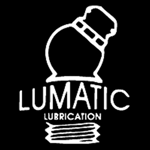 Lumatic were established over 50 years ago. As part of the MATO group they market a brand leading range of Grease guns, Including the Lube-Shuttle, manual and pneumatic Pumps and delivery equipment for oils and fuels. In addition to this they supply, install and service specialist lubrication equipment for the garage workshop: their own Fluicon oil management system and the entire ALFA range of waste oil handling- systems, hose reels and pumps for oil, grease and other work shop fluids.

About The Products

Specialising in automotive tools, Lumatic have gained an unequalled knowledge of, and experience in, all forms of lubrication equipment. Some of their best sellers include Hydraulic Nipple Threads in both Imperial and Metric, available in different thread sizes and Funnels for cars and tractors with anti splash features.

The Lumatic industrial heavy-duty hand compressor grease gun has a cast iron head with an air release valve; it is designed for use with standard 400g cartridges and has a short stroke delivery system.
Top Picks