Masterlock Security Products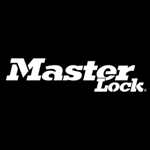 The Master Lock brand is recognised around the world as one of the biggest names in padlocks and security products. Established in 1921, the Milwaukee based manufacturer remains the only recipient of a gold medal from the American Association of Master Locksmiths for outstanding contribution to the lock industry, and over the course of their history they have received visitations from luminaries as diverse as Harry Houdini and Barrack Obama. Inspired by the construction of bank vault doors, one of the first Master Lock products was a laminated padlock, the first of its kind, which was marketed as being stronger than a solid block of steel. Master Lock's reputation for tough, durable and reliable security solutions was further cemented in 1967 when video footage of one of their padlocks surviving an impact from a .44 magnum round was aired on the Tonight Show with Johnny Carson, and during the 1974 Super Bowl, inspiring the tagline "Tough Under Fire".

About The Products

Master Lock manufacture a variety of padlocks and key safes along with cargo security, bike security and lock out security equipment.

Master lock's padlocks come in an extensive range of body types, sizes, shackle lengths and widths with keyed, combination and dial locking options.The 1500D is a particularly long standing dial combination lock which has been manufactured to the same specification since 1955. All Master Lock padlocks are supplied with 2 keys and a life time warranty. They are generally available in laminated steel, solid brass or aluminium options.

Master Lock Key safes are best sellers and are convenient solutions for on site key storage, offering peace of mind for customers and business that are looking for practical and simple key management solutions. Manufactured in a robust zinc cast body these resist hammering or sawing for total security. They are also designed not to rust in outdoor environments. Master Lock's bike security range of 2 wheel bike locks have been designed by their dedicated engineering team and offer a complete range of security solutions to meet every customer's needs. Whether you are looking for a cable or D-lock, key or combination locking mechanism, Master lock have the right solution for you.
Top Picks