Melco Tools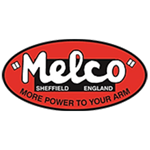 Melco Products were originally founded in 1921 by Thomas Meldrum in England and became known world-wide for the 'Melco' range of tyre bay tools and garage equipment. Thomas Meldrum Limited ceased trading on the 20th February 2016 under an amicable agreement between the Directors and subsequently reformed as Melco Products Limited with a revised product range. Melco Products Limited has continued to provide the same standards of service that existing customers have come to expect and with their combined knowledge and experience spanning over 75 years in the manufacture and service in tool manufacture.

About The Products

Melco are known for a range of products, from wheel nut wrenches to automotive equipment and hardware and construction products, but some of the best sellers are their Box Spanners, which come in both imperial and metric specifications, available individually or in sets and made from bright plated steel.

The Melco Whitworth, Imperial or Metric Box spanner is available in a comprehensive size range and is a double ended box spanner that is thinner than a socket and much longer, making it ideal for loosening or tightening bolts and nuts in narrow recesses. It is often used in plumbing, maintenance and automotive repairs. They are manufactured from bright plated steel and designed to be able to accommodate a tommy bar for application of torque.
Top Picks