Murex Welding Products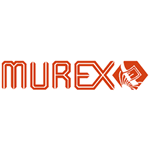 Murex are one of the world's leading manufactures of welding products and trace their history back to 1909 when they were established in Rainham, Essex. Originally operating as a metal refinery, they found that the bulk of their trade was in powdered metal alloys which were much in demand for the production of welding electrodes. Deciding to enter this market themselves, they acquired two electrode manufacturers and the firms were merged in the 1930s under the name Murex Welding Processes. In 1982, this company was itself acquired by ESAB, providing a global reach for a company who remains headquartered close to their origins, nowadays operating out of Waltham Cross in Hertfordshire.


About The Products

Murex offer a wide range of MIG, TIG and Manual metal arc welding products renowned for quality within the welding industry. Since the introduction of the first Saffire nozzle mix gas welding and cutting system, the brand has become recognized for ensuring absolute safety in all aspects of oxy-fuel welding and cutting.

Their popular general purpose electrodes come in 3 different forms, Celtian, Vodex and Zodian Universal. Their most popular Zodian universal rods are a versatile rutile-cellulosic electrode for welding in all positions, including vertical down. Murex's Vodex rods are a high quality rutile electrode, specially designed for horizontal, vertical and over head welding of mild steel plate and pipe.
Top Picks