Oakey Sandpaper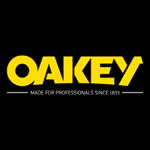 John Oakey was born in 1814. He started out his career working for a piano manufacturer and one of his tasks was to prepare sanded paper to rub down wood and coatings. At the time, the production of sandpaper was a manual procedure that required a five year apprenticeship to master! After acquiring a detailed understanding of the processes involved he founded John Oakey & Sons Limited in 1833, with the aim of mechanising the production of abrasives. By 1874 Oakey had three separate production facilities in London, and invented and patented several machines before he died in 1887. As well as successfully mechanising sandpaper production, he also pioneered a technique for waterproofing it, which he kept secret for many years.

About The Products

Manufacturing products including Premium sandpaper, finishing paper, cloth backed abrasive, sanding sponges and contour pads, Oakey are popularly known for providing innovative abrasives for craftsmen. Their Superflex range is constructed from an advanced aluminium oxide formula with a pliable cloth backing, working faster and last longer than any comparable product. It is ideal for both hand and power tool use.

Oakey's Popular Liberty Green range has been the choice for professional users since 1833 and is constructed from premium grade aluminium oxide with a heavyweight backing. It is Ideal for wood, paint, varnish, plaster, filler and metal surfaces, lasting up to 10 times longer than standard sandpapers and with a self-sharpening design for extreme durability.

Between Coat's finishing paper is perfect for fine finishing and sanding in between surface coatings. Constructed from silicon carbide featuring Ceramic SG abrasive technology, combined with an anti-clogging No-fill layer, it is ideal for plaster, wood, wax, lacquer, paint, filler, varnish, plastics and non-ferrous metals.
Top Picks