Rawlplug Fixings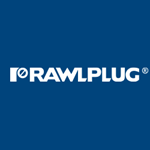 Rawlplug is one of the world's leading manufacturers of specialist anchoring and fixing systems. For nearly a century since their establishment in 1919, the brand has been synonymous with innovation, safety and reliability in the development and manufacture of products in their industry.

Starting out as a small plumbing business in London, by 1910 the range of Rawlings Brothers Ltd included electrical, general engineering building and decorating products. In 1937 Rawlplug was a listed exhibitor at the British Industries Fair, presenting a wide range of innovative products such as the new Rawlbolts and Rawlplugs, mechanical hammers, drills, wall tools and more. Since its introduction the rawlplug has become a household name for fixings, and after almost a century of successful trading they were acquired by the Koelner Group in 2005.

About The Products

Rawlplug manufacture a wide range of products, their most popular and well known being their fasteners. We stock a wide range, including self drilling screws, direct fastening systems, lightweight fixings and wood screws.

Rawl wood screws are renowned for being easy to work with- they have a notched thread and wax coating for reduced friction, and are available in a yellow or white zinc plated version.

Rawlplugs injection cartridge systems are available in Epoxy, Polyster and Vinylester resins, each range providing you with quality products for all your fixing needs.
Top Picks