Rotabroach Cutting Tools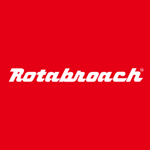 Founded in 1975, Sheffield's Rotabroach supply professional metal hole cutting solutions to over 50 countries worldwide. As well as a specialist range of products designed for the rail industry, they manufacture electric, hydraulic and pneumatic mag drills along with a comprehensive selection of cutters and accessories.

About The Products

One of the most well known brand names associated with magnetic based drills, Rotabroach's catalogue includes models suitable for a diverse range of applications. Ideal for mobile users, the Element 30 and Element 40 are the smallest and lightest drilling machines in the Element series, a core range which also includes larger models suitable for tapping applications and holes up to 100mm diameter. Fulfilling a similar role, the slightly bulkier Commando 40 represents the most economical mag drill in the Rotabroach line up and is suitable for holes up to 40mm, making it an ideal entry level machine for general purpose use.

For drilling in confined spaces, the Adder is Rotabroach's smallest offering at just 210mm in height; this exceptionally small and light mag drill is equipped with a powerful magnet and 1100W motor to ensure consistently dependable performance even in difficult workspaces.

As well as their general purpose electric magnetic drill ranges, Rotabroach 's Eagle, Raven and Gator mag drills are designed for pneumatic and hydraulic supplies respectively, while machines such as those in the Rhino Series are designed specifically for drilling rail and tram lines.
Top Picks