Rotabroach Cutting Tools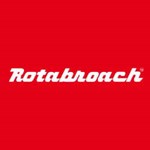 Founded in 1975, Sheffield's Rotabroach supply professional metal hole cutting solutions to over 50 countries worldwide. As well as a specialist range of products designed for the rail industry, they manufacture electric, hydraulic and pneumatic Mag Drills along with a comprehensive selection of Annular Cutters and accessories.

About The Products

One of the most well known brand names associated with Magnetic Based Drills, the Rotabroach Cutting Tools Catalogue includes several Rotabroach Mag Drills suitable for a diverse range of applications. Several of these are designed specifically for railway track use, and the range includes models with petrol engines as well as corded electric machines for use with 240v or 110v power supplies.

Rotabroach Cutters include hole saws for use with handheld power tools as well as a comprehensive range of Annular Cutters for use with Mag Drills. We stock a wide selection of accessories for use with these, inlcuding Rotabroach Cutting Fluid and individual components like pilot pins.

Top Picks