Sealey Tools Categories
↑ Browse the categories above to see all ↑
Sealey Tools Top Picks
Sealey Tools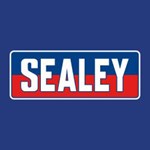 Sealey is a leading UK supplier of workshop tools & equipment, distributing extensively quality checked products for a professional market, all at affordable prices. They supply a wide selection of hardware, suitable for a variety of applications, but with a particular focus on Automobile Maintenance & Repair - so they've been a favourite with mechanics & automotive enthusiasts ever since their founding in the later 70's.

Sealey operate an independently audited quality control process and subject all their tools to extensive testing procedures. As a result, almost every hand tool in their catalogue is covered by a lifetime guarantee against manufacturing defects.

About The Products

Sealey have an extensive catalogue of professional hand, power and air tools. Supplying almost everything needed in the garage or workshop, their spanner and socket sets, air compressors and extensive range of specialist automotive tool kits are popular ranges. Their machine shop range also includes a large selection of pillar drills, bench grinders and power saws.