Toughbuilt Tool Pouches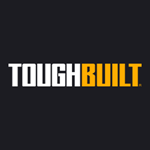 ToughBuilt Tool Pouches are probably the best known product range from ToughBuilt, who create innovative products that help the trades build faster, build stronger and work smarter. They listen, research how professionals work, then create the tools to help them save time, save hassle, and save money. If it is not better, they don't make it. It's as simple as that. They invent, engineer, test, and verify every ToughBuilt product in the USA, manufacture each product to strict quality standards and back them up with a Limited Lifetime Warranty.

About The Products

As well as Toughbuilt Tool Pouches, you can find other offerings in this great range, including - ToughBuilt Saw Horses and Jobsite Tables, ToughBuilt Mitre Saw Stands, Toolbelts, Toolbags, Tool Totes and Knee Pads.
Top Picks