Walsall Wheel Barrows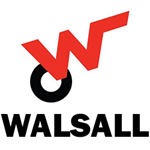 Operating out of the Midlands, UK, Walsall are the last remaining wheelbarrow maufacturer in the country and they were established more than 60 years ago when they were early pioneers in the design of steel wheelbarrows (being the first company to bring one to market). They still manufacture all their products in a custom factory, which is capable of producing up to 3,500 wheelbarrows a day, and they operate their own transport fleet which is able to quickly and efficiently deliver these products to the supply chain.

About The Products

Walsall's wheelbarrows are mainly used in construction, agriculture and the home & garden market, but they are suitable for a diverse range of industries wherever material has to be transported in bulk. Walsall offer wheelbarrows in a range of materials, finishes and price points, from light duty plastic transporters for the garden to durable, heavy duty, high capacity models designed for the construction industry.
Top Picks