Wolfcraft Tools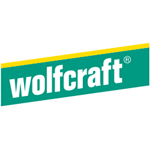 Established by toolmaker and technical draftsman Robert Wolff, the Wolfcraft brand has been supplying innovative products and accessories to tool users since the range was first launched in 1961. Based in Germany, Wolfcraft has a presence in over 16 countries around Europe and supplies around 2000 different products, including machine tables, workbenches and clamping tables, transport systems, clamping tools, wood joints, power tool accessories and hand tools as well as a complete range of project specific solutions.

About The Products

Wolfcraft supply a large range of accessories for use with electric drills; these include nylon and wire brushes, rotary rasps, hole saws, flexible drive shafts, mixer paddles, drill pumps and the Tec Mobil drill guide. Woodworkers are well catered for with Wolfcraft's dowel pins, depth stops and centre points, which are also available as complete sets.

As well as a selection of angle grinder wire brushes and folding lift trolleys, we stock two of the most popular Wolfcraft clamps: the One hand Easy clamp and 40mm Spring clamp.
Top Picks