Youngman Ladders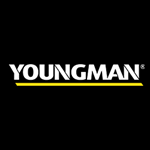 Founded in 1926, the Youngman business is built on strong values of Safety, Innovation, Quality, Customer Care and Integrity. They are now recognised as a leading provider of innovative access equipment, designed and manufactured to the highest quality and safety standards.

About The Products

Youngman's products are made for the trade professional and serious DIYer; they have a large product range including stepladders, combination laddders, extension ladders, loft ladders, work platforms, stepstools, roof ladders, telescopic ranges, access towers and stagings.

Youngman loft ladders are popular access solutions which are available in wooden and aluminium variants; they also manufacture extension kits to enable customization for larger spaces.

Youngman Step ladders such as the fibreglass Catwalk series are trusted work platforms for a great many trade users across the UK. Their folding work platforms also make great versatile and compact accessories for reaching areas closer to ground level; the Youngman Odd Job range comprises trade quality lightweight aluminium platforms which can be easily stored in a cupboard or car boot when not in use.
Top Picks