Compass Saws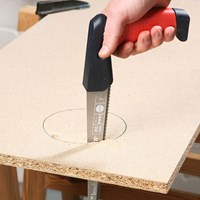 Compass Saws Information
A
Compass Saw
is built a bit like a plasterboard jab saw, in that it has a sharpened point designed to enable it to punch into softer materials. However it has a longer, finer blade which is designed for much cleaner cutting than a plasterboard jab saw. In fact it is designed to fulfil a similar function to fret saws and coping saws, and is primarily used for cutting curves into wood. Compared to these two saws it gives a coarser and more aggressive cut which does not leave as clean a finish but enables the user to work faster. As well as the sharpened point which enables it to be plunged directly into some materials, the
compass saw
also benefits from the lack of a frame, which means it can easily make cutouts in the centre of a board, unlike fret saws and coping saws which may be restricted to working near edges on larger workpieces.
Here's our quick application guide:
• TPI - TPI stands for Teeth Per Inch. Saws with a low TPI value will cut quickly but coarsely, while saws with a higher TPI count will cut slowly but produce finer cuts. 7TPI is usually considered to be at the upper end of the coarse spectrum for a hand saw, while 10TPI and over is within the range of finer cutting saws like tenon saws.
Filter Options

Price Range

Brand

TPI Loading...
End of content
Error - No more pages to load