Cone & Stepped Drill Bits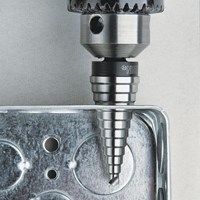 Cone & Stepped Drill Bits Information
Cone & Stepped Drill Bits
, also known as step drill bits, step down drill bits, conical drill bits and unibits, are ideal for drilling into sheet metal and plastics. A single bit enables a range of diameters of holes to be drilled without needing to keep a set of hole saws or similar accessories on hand (though a
HSS drill bit
may be required as a pilot). As well as this increased convenience factor,
cone & stepped drill bits
are capable of creating clean, burr-free holes in metal and are ideal for enlarging existing holes. The straight flute types also confer the advantage that they will not distort sheet metal as they drill into it.
Cone & stepped drill bits
are typically made from high speed steel, and TiN (titanium nitride) coated variants are common - this coating is designed to reduce friction when drilling into metal. Loading...
End of content
Error - No more pages to load