Core Bits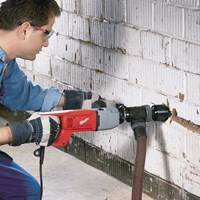 Core Bits Information
Diamond
core bits
function like heavy duty hole saws but instead of sharp saw teeth they are fitted with large, flat teeth that have been impregnated with tiny particles of diamond. They are designed for making large diameter holes in especially tough materials like concrete, masonry, limestone and granite, and are available for use either dry, wet, or in some cases a combination of both. Adding water helps to reduce dust and prolong the life of the diamonds but in situations where this is not feasible (e.g due to the mess created or electrical hazard) dry diamond cores are preferrable.
Core bits
can be used in an electric drill or rotary hammer but this is not recommended unless they have especially powerful motors and safety clutches. Ideally they should be used in
diamond core drills
; these machines have been purpose built for diamond core drilling, with optimum power to complete the job and integrated safety features designed to protect the operator from violent kickback if the core jams. Loading...
End of content
Error - No more pages to load